The original Shop Local Southampton survey of readers demonstrated a huge show of support for the Bedford Place car-free scheme, with 96.2% of 500 responders having a positive opinion of it. Unfortunately, soon after we published the results, the council decided to announce that the scheme was to close in mid-July after its own survey of businesses on Bedford Place showed a small margin in favour of the action.
Shop Local Southampton carried out its own survey of businesses and the results are very interesting. Of the Bedford Place businesses inside the current car-free zone, 5 of 6 approved of the scheme remaining at all times. Looking at the wider Bedford Place, businesses were split precisely 50/50 on whether to re-open the road to cars during the day (comparing the red and orange sections of the graphs with the blue) - though there was a large majority (73% discounting neutral responses) in favour of a car-free scheme in the evenings and weekends.
Note: In the graphs below, 'Approve' refers to a business approving of the car-free scheme continuing full time.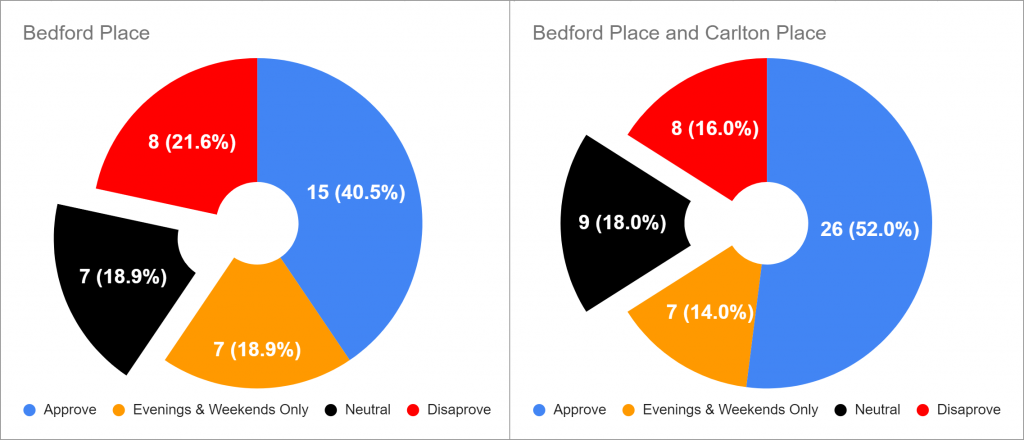 When adding Carlton Place businesses to the results, there is a large degree of support for maintaining the car-free zone at all times.
Whether supporting or opposing the scheme, I had some great conversations with business owners in the area. On either side of the debate there is a strong desire for Bedford Place to become a destination area, and I'm sure there is room for mutual agreement. Most of those I talked with on both sides of the debate expressed widespread support for other measures such as:
- Traffic calming (e.g. raised platforms to reduce speed, single lane areas)
- Enforcement of a reduced speed limit (20mph zone)
- Additional seating / road narrowing (e.g. for restaurants outside of the current scheme, and using spare capacity in Upper Banister Street Car Park)
- Investment in the scheme area and expanding the reach of improvements to the rest of Bedford Place, e.g. with street art
The raw data of responses can be found in the table below. I did try to reach every business in Bedford Place and Carlton Place, but unfortunately in some cases the owner wasn't available and we weren't able to communicate remotely. My apologies if we didn't get to speak this time.
| | | | |
| --- | --- | --- | --- |
| Response | Bedford Place (Scheme Only) | Bedford Place (All) | Bedford Place & Carlton Place |
| Approve | 5 | 15 | 26 |
| Evenings & Weekends Only | 0 | 7 | 7 |
| Disapprove | 1 | 8 | 8 |
| Neutral | 0 | 7 | 9 |
| Total Attempted | 8 | 51 | 70 |
| Total Answered | 6 | 37 | 50 |
Where do we go from here? It is clear from the original Shop Local Southampton member survey that there is widespread support for the Bedford Place scheme. Other surveys have shown majority support amongst local residents. Even within Bedford Place businesses, there is strong support for the scheme continuing in some form, though they are split on opening during the day. I didn't find majority support for ending the car-free zone amongst any group of businesses.
If the road is to re-open to cars during the day, we should not wait a year to implement an evening / weekend car-free scheme - we should look to automated barriers immediately, or delay any changes, so that businesses can continue to benefit from the extra space in the critical summer months. We should also look to other road calming measures to avoid a return of dangerously fast cars to the area, to add more space for visitors and residents to roam safely, and to improve the overall aesthetic of Bedford Place.
Thanks to everyone that has engaged so far, from those who responded to the original survey, to the hundreds of detailed comments and ideas for Bedford Place and our city, and to businesses and councillors on all sides of the debate. Bedford Place presents us with a real opportunity for Southampton to have its very own boutique shopping, eating and drinking district. Let's make something great happen!