Whether you're a long time vegan, going vegan for the month, or just wanting to try out the large range of vegan food on offer in January, Southampton has you covered. Local businesses have really pulled the stops out this year, so let's all go out and support them, they need it after the year they've had!
Café Thrive should be the first call for anyone interested in vegan cooking, cakes and hot drinks in Southampton, and the offering is so strong that it should be on everyone's radar. A 2-storey café overlooking the Central Parks, their Veganuary offerings include cronuts, an Italian tofu and roasted vegetable salad, a cherry bakewell hot chocolate, and this gorgeous 'chicken' burger. Their entire menu is always vegan, and their pumpkin spice latte is one of my favourite drinks in the city.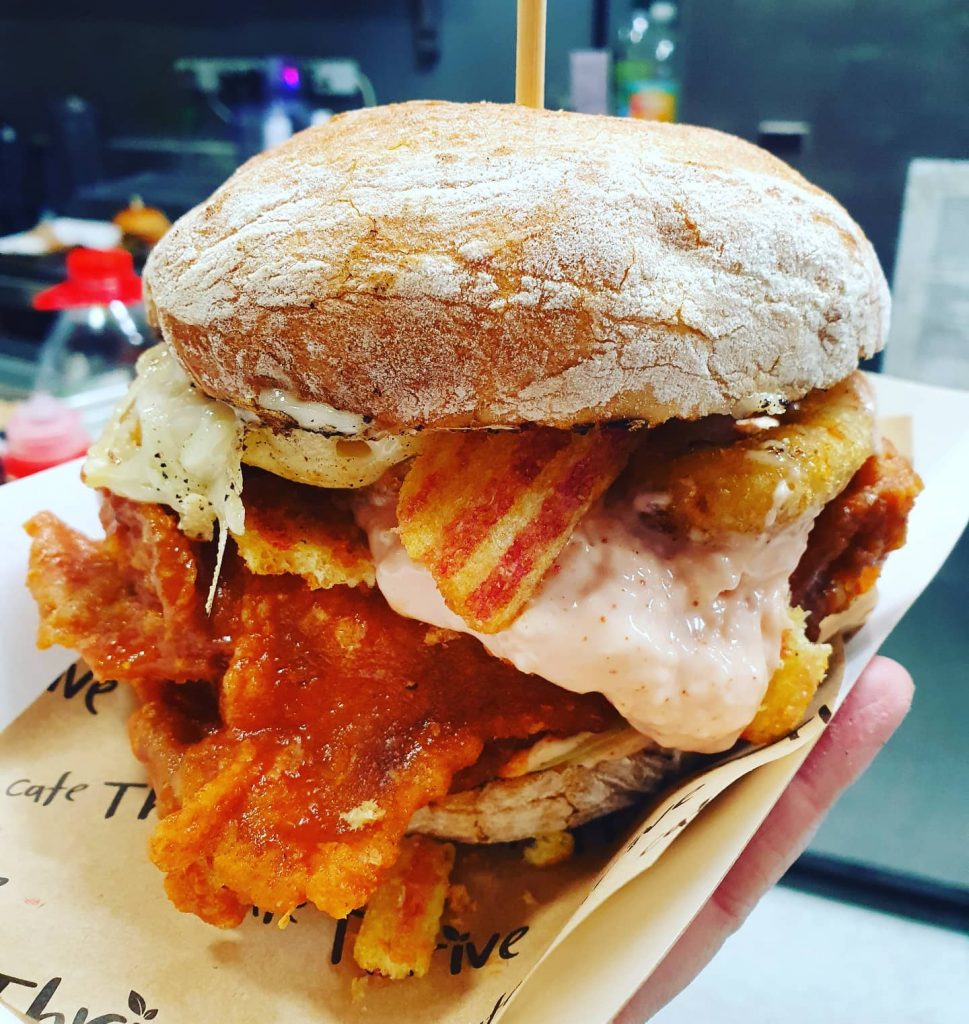 The Black Phoenix (Bedford Place) have a new and returning vegan special for every single week of January. The stars of the first week are the brand new Elvis (pictured) with peanut butter, caramelised bananas and bourbon infused cherry jam. This is paired with the returning 'Monster' burger with black garlic 'mayo', mushrooms and pickled onion crisps (yep). On Mondays you can also get 20% off all the new vegan dishes of the week. To top it off, their excellent vegan mozzarella sticks (rated by Chris as actually better than real mozzarella sticks) have returned for January.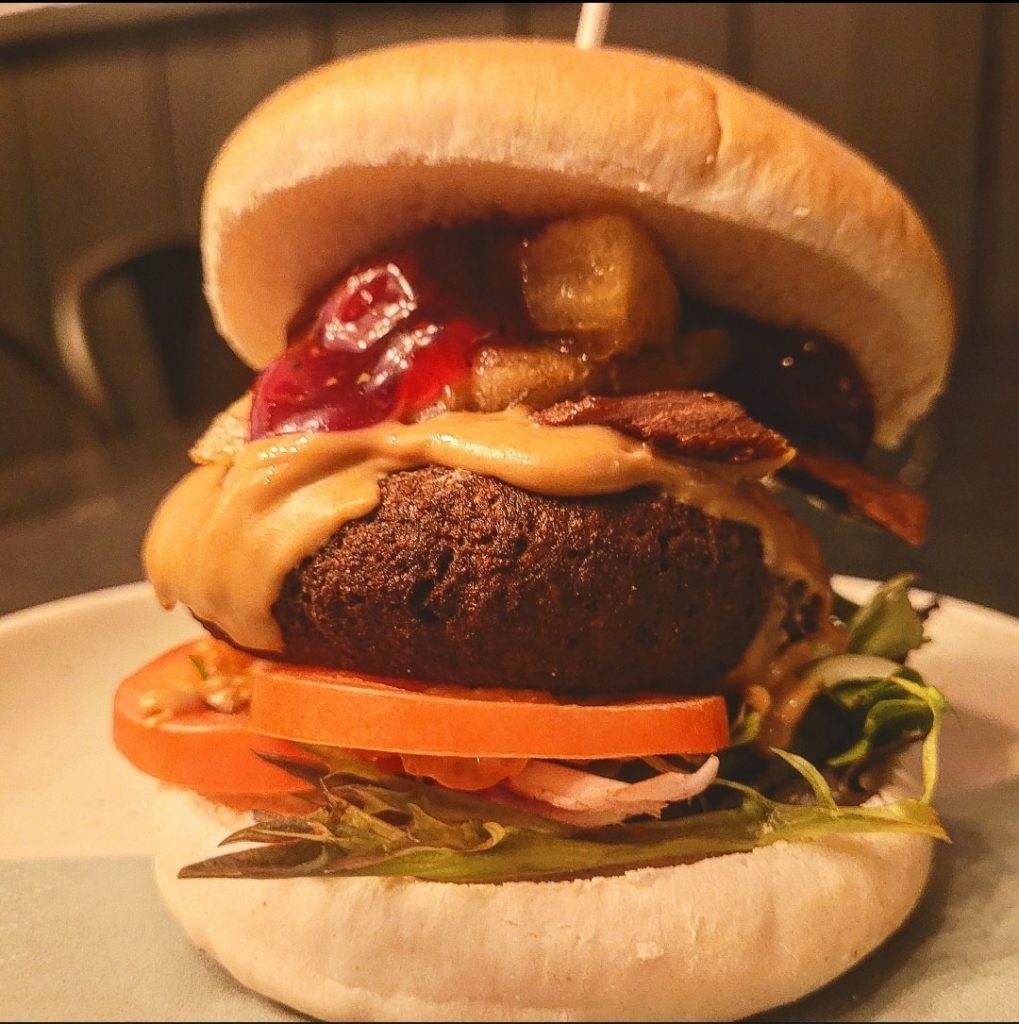 For even more burger goodness, head to Lakaz Maman, home of Masterchef winner Shelina Permalloo's Mauritian restaurant. They've just announced their latest burger for Veganuary - the Meaty Jack - a mountain of spicy battered jackfruit in a brioche bun.
Just a couple of doors down you'll find Piecaramba, home to 4 vegan pies on their standard menu, vegan mash and mushy peas, additional vegetarian pies, and a Veganuary special 'Spudnik' featuring leek, mushroom and potato in a white sauce. This is truly pie heaven, and possibly the best pie shop in the country. Jay Rayner (Masterchef, The Guardian) reckons so.
Stakks is a pancake house on the upper level of Marlands shopping centre. A pancake house might not be the most obvious choice for vegan food, but Stakks have your Veganuary covered with a separate fully vegan menu featuring 9 delicious savoury and sweet vegan pancake stakks. All can be made gluten free on request.
Popsi's, a gorgeous Bedford Place pizza restaurant (currently takeaway / delivery only) have gone the extra mile for Veganuary, creating 3 new vegan "meats" - bacon (pictured on the pizza below), chicken and peperoni. They've also created vegan garlic butter bites.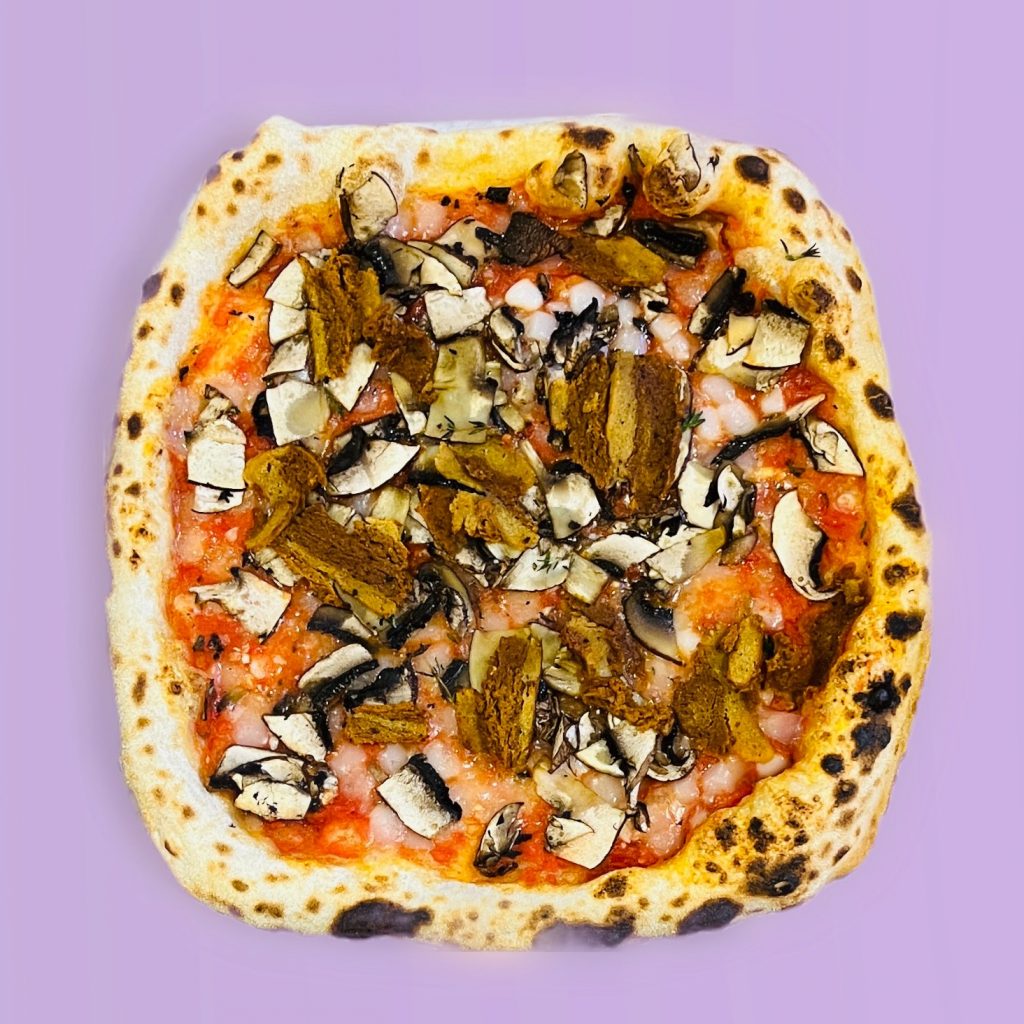 The Nest Coffee House on London Road has an almost unbelievable range of vegan pastries and doughnuts, and indeed I had no idea they were vegan until I saw the '#vegan' hashtag with one of their posts. Even once I knew, I was still blown away with how delicious and creamy the doughnuts were. January's doughnut lineup includes raspberry & white chocolate, boujee biscoff, brownie, and their gorgeous cinnamon rolls. Some of their doughnuts are pictured below. See you there?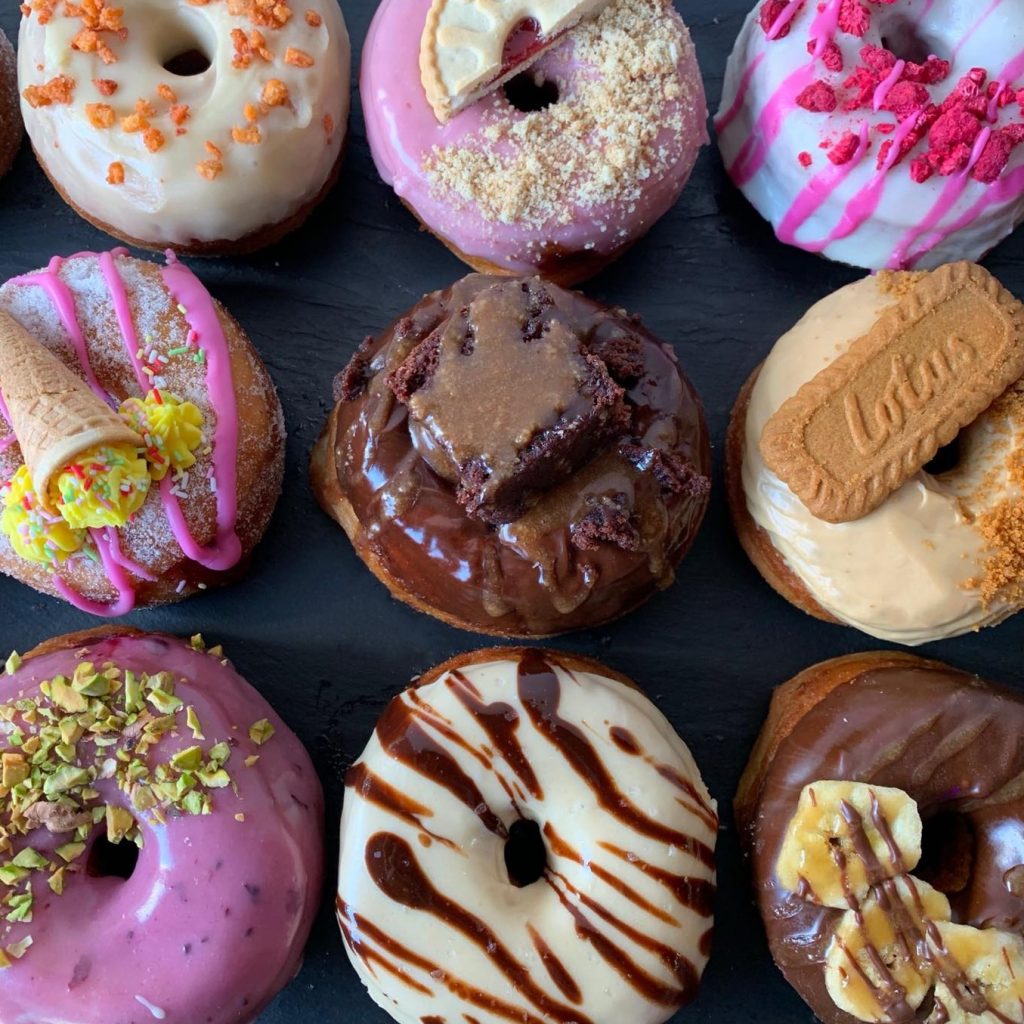 Rice Up Wholefoods is Southampton's vegan supermarket on Hanover buildings, with a great deli of pastries etc to take away (I believe they can warm them for you on request). Sadly, Rice Up has been hit hard by recent events and they need our support - visiting and buying things is definitely one way, they're also running a Crowdfunder if you'd like to support but can't get down there.
Even traditional restaurants such as Ennios have gotten in on the Veganuary action, how nice does their vegan take on Crespelle (stuffed pancakes) look?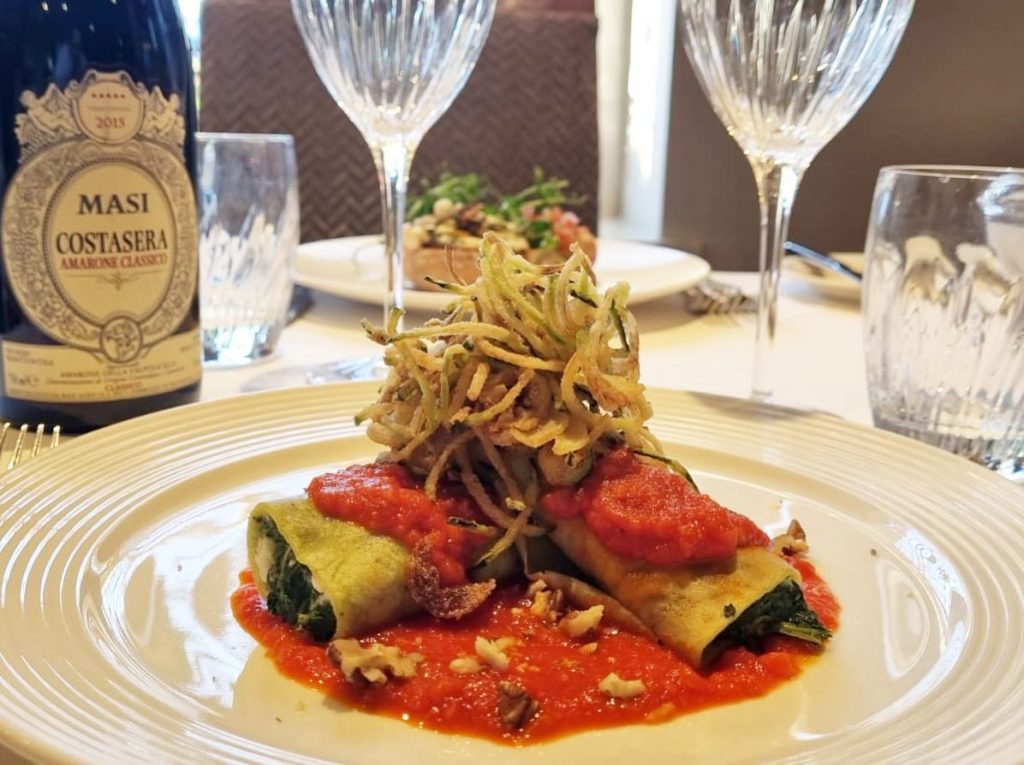 Baboo Ji in Portswood is offering 15% off all vegan dishes on collection. And yep, everything in the image below - from the masala dosa to the Bombay potatoes, is vegan.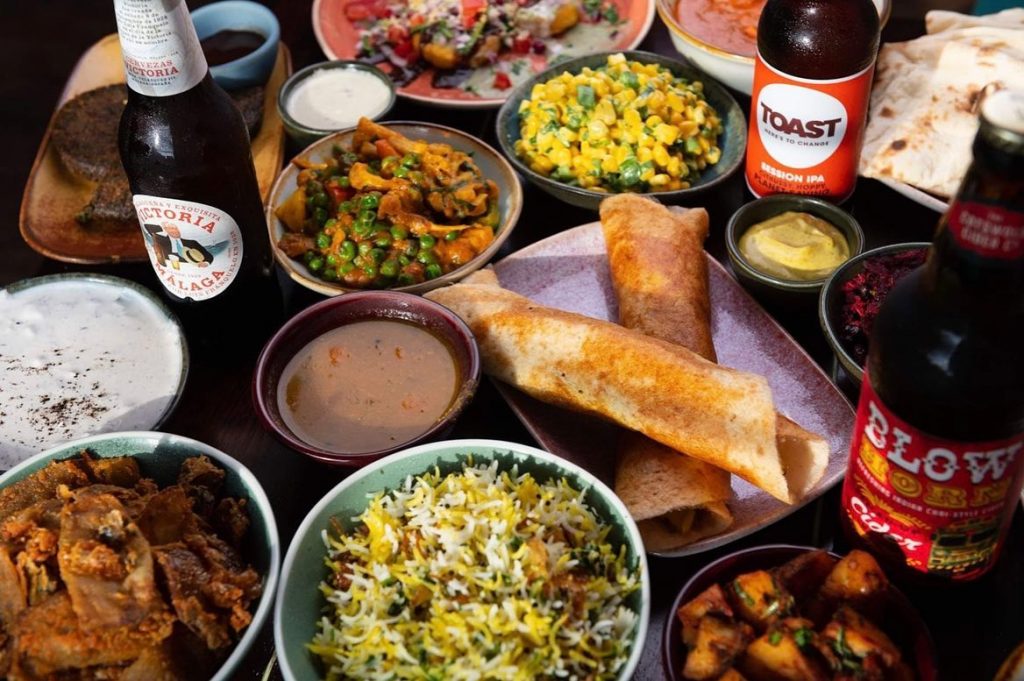 The fully vegan Art House are following the Covid situation closely and hoping to reopen for community café events next week, but for now they open for takeaway coffee, soup, drinks, snacks, and their community pantry, 1100 - 1500 every Thursday, Friday and Saturday.
A post about Veganuary wouldn't be complete without mentioning the Veg Out Community Vegan Café, which runs in the community space at the back of October Books (Portswood) every Monday with lunch served from 1215 and features live acoustic music. The café is run entirely by volunteers (indeed, they're urgently looking for more to be able to continue opening!) and creates dishes from food donated by local businesses to avoid wastage. October Books are notable on their own merit for being a great independent book store and also stockists of a large range of vegan food products (many from Infinity Foods in Brighton), as well as cleaning products and cooking books.
Crossing over the river, Bitterne Park Stores re-opens on Tuesday 11th January and hosts a huge range of vegan alternative meats, cheeses, chocolates, beers and much more. You'll also find that a surprising number of the pastries at Cottons Bakery next door are vegan.
For Sunday roasts there are always plenty of options - including Black Phoenix and The Alexandra. The photo below is of Belgium and Blues' offering, which does look mighty tasty (and I do like beer)...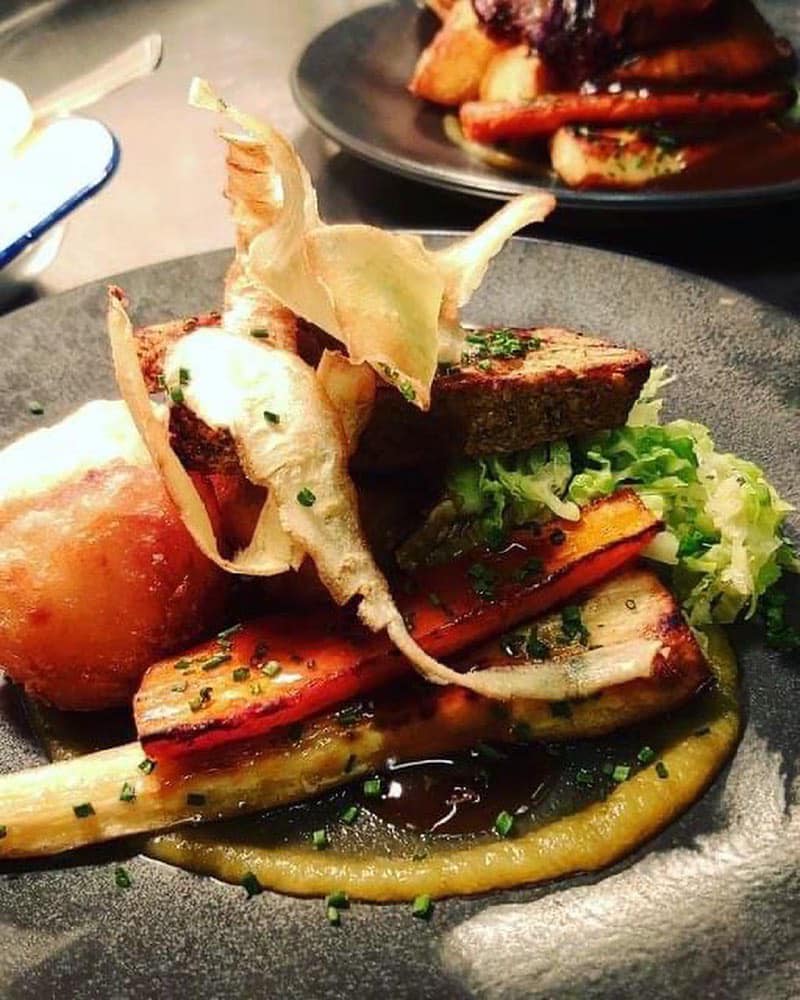 Overdraft in Shirley have always got a tasty range of vegan options, tacos and nachos. They have announced a Veganuary special, tostadas filled with local purple sweet potatoes, homemade queso, chilli and avocado - sounds delicious.
The final shout out (at the moment, if I can't resist adding others!) goes to Board in the City. Not a vegan eatery, but they have plenty of options for you to much on whilst playing board games, from a burger to pizza, pie, soya mince nachos, and truly fantastic chips.
Hope you have fun trying out the excellent culinary options Southampton has to offer, whether vegan or not. This isn't a complete list of course, I'd love to hear your favourite local businesses and what they're doing for Veganuary on our Facebook post.