This article is about Mint Dosa but really I'm using it as a demonstration of a truth - Southampton is a great city for authentic Indian food. I learnt on travels around the world that I really took great Indian food on my doorstep for granted. Indian food travelling was often too sweet, too plain, often overpriced or clearly from a ready meal. With local knowledge of those countries I'm sure there are exceptions, but that was my experience. Only when I travelled to India did the food reach the heights of home and I learnt how lucky we are. In Southampton, there isn't just 'Indian' food referring to food from the subcontinent as a whole - you can be transported directly to Kerala, to Goa, to the Punjab, to Nepal, to Pakistan, or to Bangladesh.
Mint Dosa's food is described as South Indian and Sri Lankan, and of course dosas (giant pancakes made from ground rice and lentils) form a key part of the menu. I strongly recommend the special masala dosa, filled with a potato curry filling and served with coconut chutney, tomato chutney and a vegetable sambar soup - this is a great meal in itself for just over £6. However, I concluded that dosas probably don't travel too well, so I elected to omit them from my eat-at-home feast.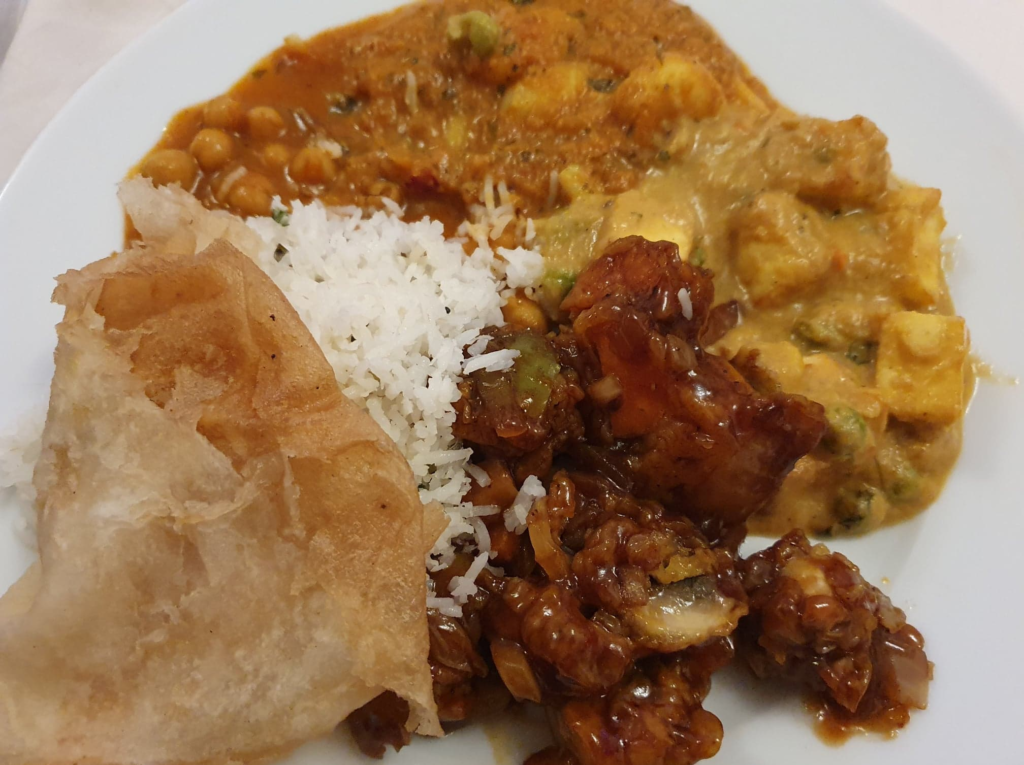 Not the best Internet food photography sorry! Pictured are a very small part of the Mushroom Manchurian (delicious battered mushrooms in a Chinese inspired sauce - very popular in India), Mutter Paneer (peas and paneer), Chana Bhatura (chickpea curry and bread), and coconut rice. We also ordered a Garlic Naan, a Peshwari Naan, Vegetable Manchurian and mango lassi to drink. For £50 there was enough for both of us to have dinner across two nights.
From Oothappam, to something called "Chicken Lollipop", to Masala Tea and Kingfisher beer (not available for home delivery - you'll need to supply your own), to the menu being split into "vegetarian" and "non-vegetarian" - there's so much about Mint Dosa that reminds me of India.
Mentioning all of the excellent Indian restaurants would take too long, but just quickly I'd like to shout out the following for being awesome: Sanjha, Dhaba 59 (new location at 59 Lodge Road), Baboo Ji, Everest, Basmati, Bayleaf, Kohinoor of Kerala, 5 Rivers, Tandoori (Woolston), and Gurkha Lounge. Some are open now for our takeaway treats, and some will be waiting for you when they re-open.
Southampton - you're truly lucky to have such awesome Indian food just a phone call away. I highly recommend treating yourself to a lockdown New Years fest.