From this week's cover photo, you can see why Riverside Park, in all its Autumnal beauty, was selected as one of the nation's favourites. Southampton has bucket loads of music and other events to keep your soul warm this Autumn. Here's just a small taster:
The Lemonheads | Crazy Arm | Prima Queen | Frank Turner | Hi-on Maiden | J Fashole Luke Trio | Electric Eden | Our Propaganda | Mad Dog Mcrea | Legend | Wrest | Garage Nation | Counting Crows | Emerald Dawn | Ocean Grove | Inhaler | Sports Team | Wargasm
Enjoy Southampton! Do share these listings with your friends if you find them valuable.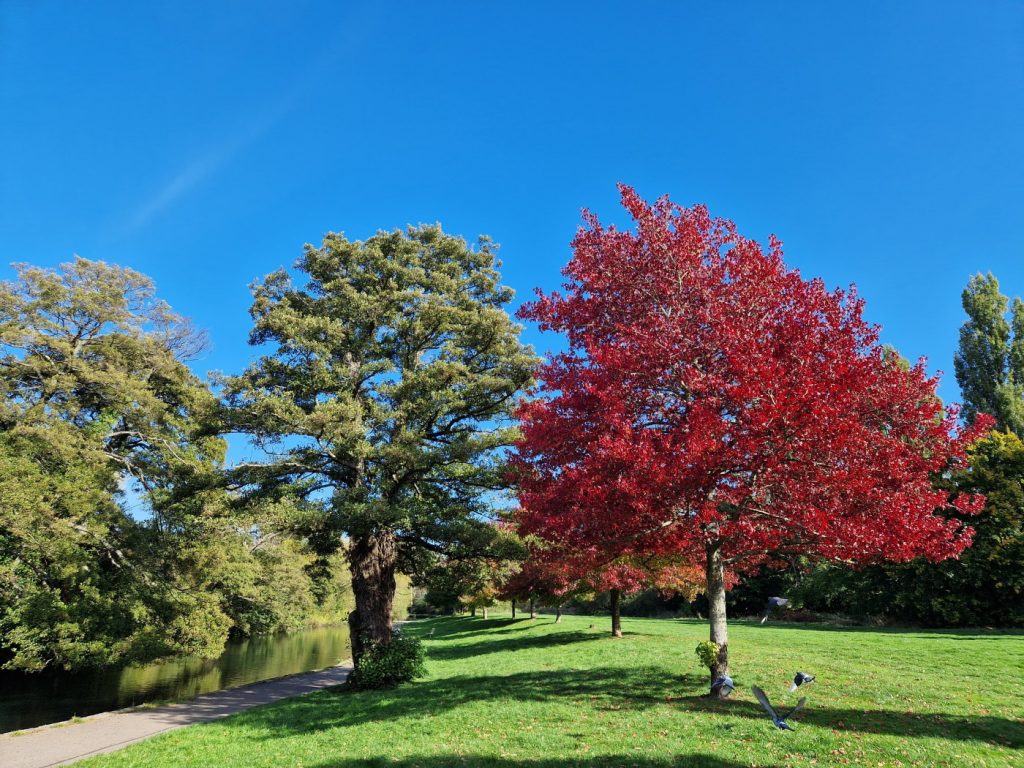 ==== TUESDAY 11 OCTOBER ====
---- Live Music ----
Open Mic Night | Whiskey Blue <20:00>
www.facebook.com/events/1495605390942042
Groove Bakers Blues Jam | Cricketers Bedford Place <20:00>
www.facebook.com/events/485821443583824
Elias Quartet (classical) | Turner Sims <20:00>
www.facebook.com/events/327918609535474
Courting (brit-pop, Liverpool) + Deep Tan + Bull | The Joiners <19:30>
www.facebook.com/events/571045491241214
While & Matthews (foilk) | Hanger Farm Arts Centre, Totton <19:30>
www.facebook.com/events/351138120411654
The Amazons (indie rock, Reading) | Southampton Guildhall <19:00>
www.facebook.com/events/1213586399393519
---- Events ----
Pub Quiz | BrewDog Southampton <19:30>
www.facebook.com/events/368433965383627/?event_time_id=368433995383624
Game Developers Meetup #37 | The Mayflower Village <18:30>
www.facebook.com/events/759968495080250
==== WEDNESDAY 12 OCTOBER ====
---- Live Music ----
The Lemonheads (rock, Boston - USA) | The 1865 <19:30>
www.facebook.com/events/5384462044944022
William the Conqueror (indie rock, Toronto - Canada) + Later Youth | The Joiners <19:30>
www.facebook.com/events/1199616780854014
The Queen's Head (post-punk, London) | Heartbreakers <19:30>
www.facebook.com/events/456842992677556
The Rock Orchestra by Candlelight | Southampton Guildhall <19:00>
www.facebook.com/events/5207051082665459
Ruby's Jam ft. Alexa Ash | Rubys at the Grand <21:00>
www.facebook.com/events/559425352650116
---- Events ----
Kickboxing & Fitness | Drummond Centre <19:30>
www.facebook.com/events/1748447685531717
October Book Club: The Periodic Table | The Bookshop Alehouse <19:30>
www.facebook.com/events/1399689787108578
Author Talk: The Dementia Diaries by Patricia Worby | October Books <19:00>
www.facebook.com/events/1244295643031545
Community Club | St. James' Park <11:00>
www.facebook.com/events/1002999756984239/?event_time_id=1002999843650897
Community Cafe and Pantry Wednesday | The Art House <11:00 / 18:00>
www.facebook.com/events/773647157054960
==== THURSDAY 13 OCTOBER ====
---- Live Music ----
Crazy Arm (roots-punk, Plymouth) + Eamon Mcgrath (indie-roots, Edmonton - Canada) + Mouser | The Hobbit <19:30>
www.facebook.com/events/405258065056931
Prima Queen (indie/alt rock, Bristol) | Heartbreakers <19:30>
www.facebook.com/events/1468705090312842
Blues with Hugh Budden (blues, Bournemouth) & Pete Harris | Belgium and Blues <20:30>
www.facebook.com/events/434730828714123
Thursday Open Mic Night | The Dolphin, St Denys <19:30>
www.facebook.com/events/3239579119652431/?event_time_id=3363199723957036
---- Shows ----
Rob Auton - The Crowd Show | Hanger Farm Arts Centre, Totton <19:30>
www.facebook.com/events/312393177729874
---- Events ----
Quiz Night | The Rockstone <20:00>
www.facebook.com/events/642127927544960
66th Rj Mitchell Lecture: Making the Impossible Possible | Turner Sims <18:00>
www.facebook.com/events/3229495930644720
Community Café and Pantry Saturday Daytimes | The Art House <11:00>
www.facebook.com/events/1204614813721879
Health Walks - The Common | The Café at the Hawthorns <10:30>
www.facebook.com/events/421657159882177/?event_time_id=421657189882174
==== FRIDAY 14 OCTOBER ====
---- Live Music ----
Frank Turner (folk-punk, Winchester) | Southampton Guildhall <18:00>
www.facebook.com/events/688638335717695
Hi-on Maiden (tribute) | The Brook <20:30>
www.facebook.com/events/1081589529446071
Laurence Henderson (blues rock, South Coast) | Cricketers Bedford Place <20:30>
www.facebook.com/events/844584026919766
Life + SINS (indie rock, South Coast) | The Joiners <19:30>
www.facebook.com/events/3075820736019911
J Fashole Luke Trio (Southampton) | The Art House <19:30>
www.facebook.com/events/862755344708357
It's Liam Andrews | Turner Sims <19:30>
www.facebook.com/events/1309904226484854
The Unravelling Wilburys (The Traveling Wilburys tribute) | Hanger Farm Arts Centre, Totton <19:30>
www.facebook.com/events/1121752918642661
Maxwelltheband (emo/punk, Southampton) Official Ep Launch Show + Cutting Ties (emo, Brighton) | Heartbreakers <19:30>
www.facebook.com/events/837524030952188
Electric Eden (contemporary folk, Hampshire) | Bursledon Windmill <19:30>
www.facebook.com/events/563530258888271
Our Propaganda (alt rock, Southampton) album release show | The Stage Door <19:30>
www.facebook.com/events/409969174604460
Charley Macaulay (Vocalist, Southampton) | Whiskey Blue <19:00>
www.facebook.com/events/673853630801211
---- Live Music (Covers) ----
New Age (modern rock) | The Dolphin, St Denys <21:00>
www.facebook.com/events/741785540440653
Sykick Surfers (60s rock and blues) Shirley | The Rover Inn <21:00>
www.facebook.com/events/478508360491846
9volt | The Bittern <21:00>
www.facebook.com/events/410550754584108
Soul Queen (motown/soul) Live | The Peartree Inn <20:30>
www.facebook.com/events/650036423090262
---- DJs and Club Nights ----
DJ 'BC' Millar | The Quarter Lounge <20:30>
www.facebook.com/events/786658915938265
Frank Turner (folk-punk, Winchester) DJ Set & Official After-party | The Hobbit <22:00>
www.facebook.com/events/494269852109938
SO Fetch - 2000s Party | Engine Rooms <22:30>
www.facebook.com/events/3330307683963785
Good Vibrations - 60s & 70s DJs | Heartbreakers <22:00>
www.facebook.com/events/451159243743561
---- Events ----
Manor Farm Ghost Hunt | Manor Farm <21:00>
www.facebook.com/events/1008890616378449
Bingo Night | Artsy Lounge <20:00>
www.facebook.com/events/842587453779730
Classical Association Centenary Event | Southampton City Art Gallery <18:30>
www.facebook.com/events/1139712473285722
Heart of Darkness - Special Dark Beer Event | The Butcher's Hook <16:00>
www.facebook.com/events/1149511682314530
Parklife Café Toddler Group | Parklife Café, St James Park <10:00>
www.facebook.com/events/1746617215731169/?event_time_id=1746617242397833
==== SATURDAY 15 OCTOBER ====
---- Live Music ----
Mad Dog Mcrea (folk, Plymouth) + Flint Moore | The 1865 <19:30>
www.facebook.com/events/1318715272196952
The Devil's Damned String Band (bluegrass, South Coast) | The Dolphin, St Denys <21:00>
www.facebook.com/events/670695554386798
Legend - A Tribute to Bob Marley | The Brook <20:30>
www.facebook.com/events/798640924465750
Chelsea Carmichael (composer / saxophonist, London) | Turner Sims <20:00>
www.facebook.com/events/437675224952180
Hanya, Temples of Youth (dream pop, Southampton) | Heartbreakers <19:30>
www.facebook.com/events/861708054814048
Chasing Mumford - The Mumford & Sons Experience (tribute) | Hanger Farm Arts Centre, Totton <19:30>
www.facebook.com/events/398177802075507
Wrest (indie rock, Edinburgh) | The Joiners <19:30>
www.facebook.com/events/321669106578195
Spyres (indie pop, Glasgow) + Sterling Press | Suburbia <19:00>
www.facebook.com/events/1084453742423021
Black Joy (Black History Month live music event) | The Art House <19:00>
www.facebook.com/events/488343996232657
Zen Juddhism (rock, Southampton) National Album Day | HMV <16:00>
www.facebook.com/events/3170160349904613
---- Live Music (Covers) ----
The Smugglers Band (rock, Southampton) | Cricketers Bedford Place <22:00>
www.facebook.com/events/479615350347296
One Thousand Arrows (rock) | Regents Park Hotel <21:00>
www.facebook.com/events/1135149744104166
The Lovely Giraffes (rock, Southampton) | The Bricklayers Arms <21:00>
www.facebook.com/events/702810197460571
Armada (hard rock) | Hop inn <20:00>
www.facebook.com/events/341995677916156
Rewind | The Rover Inn <20:45>
www.facebook.com/events/750615406725042
---- DJs and Club Nights ----
Garage Nation | Engine Rooms <22:00>
www.facebook.com/events/420199993401530
Rumpshaker - Pure Old School 80s & 90's Soul, Swing, Hip-hop and Reggae Vibes | The Quarter Lounge <20:30>
www.facebook.com/events/2207599212743343
DJ SamC | Brass Monkey <20:00>
www.facebook.com/events/586352649781930
The Hill - October | The South Western Arms <20:00>
www.facebook.com/events/406671034912328
Simply Saturday (urban) | Café Parfait <22:00>
www.facebook.com/events/1216395595871795
---- Events ----
Apple Day 2022 | Octavia Road Open Space <13:00>
www.facebook.com/events/1148781959061039
October Clothes Swap | Boulder Shack <13:00>
www.facebook.com/events/643082110571240
Trans Pride Southampton March | Bargate Street <12:00>
www.facebook.com/events/1724470627918871
BITC Gaming Tournament Is Back | Board in the City <12:00>
www.facebook.com/events/1580867792328317
Community Cafe Saturday Daytimes | The Art House <11:00>
www.facebook.com/events/1325880131486636
Cookery Demo: An Afternoon with the Sustainable Chef | October Books <11:00>
www.facebook.com/events/792013118668500
Autumn Fun Day | Boulder Shack <10:00>
www.facebook.com/events/895992851381631
==== SUNDAY 16 OCTOBER ====
---- Live Music ----
Robbie & Mona / Bingo Fury (indie, London) | Heartbreakers <19:30>
www.facebook.com/events/1430867460750609
New Forest Big Band (big band, New Forest) | Hanger Farm Arts Centre, Totton <19:00>
www.facebook.com/events/670626664025193
Cats in Space (classic rock, Horsham) | Engine Rooms <19:00>
www.facebook.com/events/450220780195236
The Emerald Dawn (Prog quartet, Cornwall), The Wood Demons | The 1865 <19:00>
www.facebook.com/events/446591610416809
Counting Crows (roots rock / pop rock, San Francisco - USA) | Southampton Guildhall <19:00>
www.facebook.com/events/191935956394389
Foot/Long (folk, Southampton) | The South Western Arms <17:00>
www.facebook.com/events/5693465604030005
Tim Godleman (singer, Southampton) Live | Whiskey Blue <14:00>
www.facebook.com/events/3294338007476699
---- Live Music (Covers) ----
New Age (modern rock) | The Yacht, Woolston <16:00>
www.facebook.com/events/1485888535186119
---- Events ----
No Wrong Door - Make a Connection (gaming sessions) | Board in the City <16:00>
www.facebook.com/events/472403984759955/?event_time_id=472404018093285
"Southampton Needs a Tenants' Union or a Tenants Co-op" | God's House Tower <14:00>
www.facebook.com/events/398903612429340
Flesh and Blood Mixed Format Event | Board in the City <12:00>
www.facebook.com/events/1446754049161353
Gardening Drop-in | Bitterne railway station <11:00>
www.facebook.com/events/376331131250694
Litter Pick of the Pond | Shirley Pond Park <10:30>
www.facebook.com/events/446090100753990
Happy Café Sundays | Parklife Café, St James Park <10:00>
www.facebook.com/events/1693472727677064/?event_time_id=1693472777677059
Dachshund Café for Halloween | Revolucion de Cuba Southampton <11:00>
www.facebook.com/events/3310608992590824
Cockapoo Café for Halloween | Revolucion de Cuba Southampton <12:20>
www.facebook.com/events/620838956340433
==== MONDAY 17 OCTOBER ====
---- Live Music ----
Ocean Grove (nu metal, Melbourne - Australia) + Seething Akira + Dreameater | The Joiners <19:30>
www.facebook.com/events/775448846991340
Inhaler (rock, Dublin - Ireland) | Engine Rooms <19:00>
www.facebook.com/events/413593360905913
Sports Team (indie, London) | The Loft <19:00>
www.facebook.com/events/388424326615315
Wargasm (electronic rock, London) + Scene Queen + Knife Bride | The 1865 <19:30>
www.facebook.com/events/1112337282684902
Write a Note | MAST (Mayflower Studios) <19:45>
www.facebook.com/events/1088916008492395
Moosickal Mondays with Jo Long and Rick Foot | Veg Out Community Cafe at October Books <12:30>
www.facebook.com/events/1227224151343718
---- DJs and Club Nights ----
South Signal Bass Party | Suburbia <21:00>
www.facebook.com/events/1453154481835674/?event_time_id=1453154488502340
---- Shows ----
Downton Abbey: A New Era | Hanger Farm Arts Centre, Totton <19:00>
www.facebook.com/events/556857269398442
---- Events ----
Halloween Uv Resin Class - Make Your Own Dried Flower Coffin Necklace | Kookies Crafts <18:30>
www.facebook.com/events/1120948365494049
Vinyasa Yoga with Gill | Gaia Health Store <18:00>
www.facebook.com/events/782033759738219/?event_time_id=782033776404884
Community Club | St. James' Park <11:00>
www.facebook.com/events/1002999756984239/?event_time_id=1002999783650903
Health Walks - The Common | The Café at the Hawthorns <10:00>
www.facebook.com/events/421657159882177/?event_time_id=421657186548841