Another week, another stellar line up of 120 events for you Southampton! Canadian metal? Tick. Faroese folk? Tick. Huge name drum and bass? Tick.
There's bucket loads of spoken word and open mic events this week. To top it al off, Southampton superstars including Bury Tomorrow and The Manatees have big gigs this week.
Enjoy, and please do let us know if you find something through the listings. You'll also hear musical highlights for the weekend on The Asylum (2100-2300 Wednesdays, Voice FM).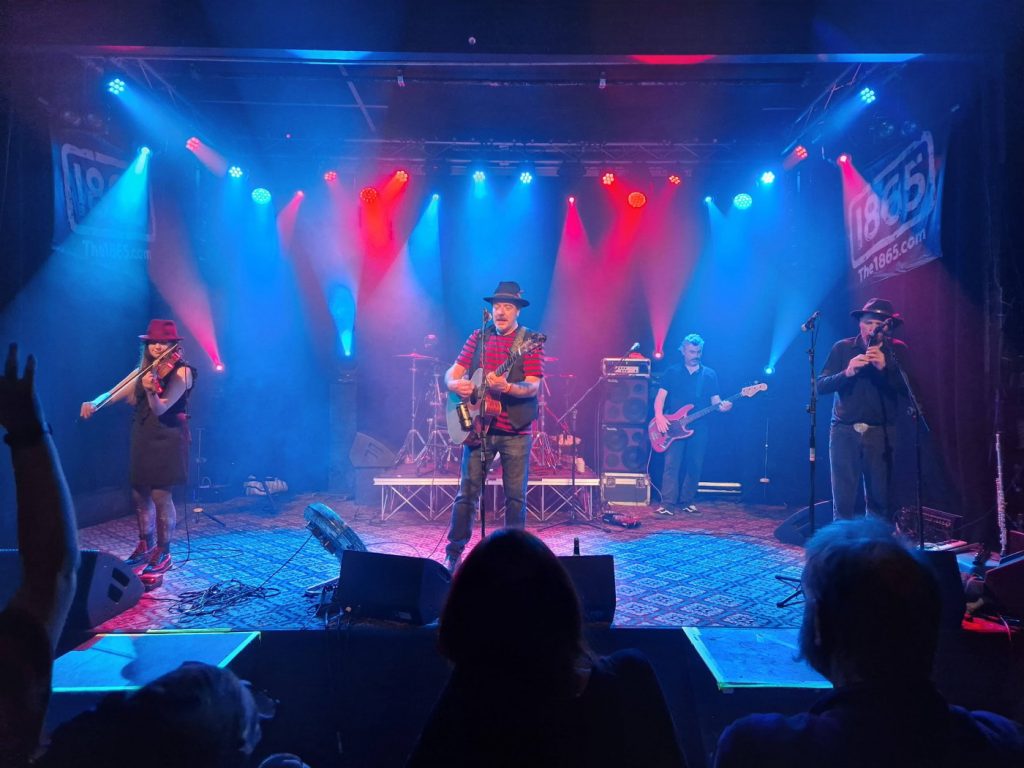 ==== TUESDAY 18 OCTOBER ====
---- Live Music ----
Kathryn Tickell & The Darkening (folk, Northumbria) | Turner Sims <20:00>
www.facebook.com/events/1208286479966286
Byron Wallen (jazz trumpeter, London) and Rob Luft (jazz guitarist, London) | The Stage Door <20:00>
www.facebook.com/events/778597030106756
Open Mic Night | Whiskey Blue <20:00>
www.facebook.com/events/651130189928182
Anvil (metal, Canada) | The 1865 <19:30>
www.facebook.com/events/416538069050418
Beabadoobee (singer-songwriter, London) | Engine Rooms <19:00>
www.facebook.com/events/683034169585839
SOCO Mixtape Open Mic | MAST (Mayflower Studios) <19:30>
www.facebook.com/events/1088774882026423
---- DJs and Club Nights ----
Karaoke | Heartbreakers <21:00>
www.facebook.com/events/873545614010360
---- Shows ----
X-treme Magic | Mayflower Theatre <19:30>
www.facebook.com/events/618132269706911
---- Events ----
Pub Quiz | BrewDog Southampton <19:30>
www.facebook.com/events/368433965383627/?event_time_id=368434035383620
Sotonettes wi Book Club - "the Girl with the Louding Voice" by Abi Daré | The White Star Tavern, Southampton <19:00>
www.facebook.com/events/676922406673460
Health Walks - The Common | The Cafe at the Hawthorns <14:00>
www.facebook.com/events/421657159882177/?event_time_id=421657183215508
Swing Session | The Guide Dog <20:00>
www.facebook.com/events/805215473933066
Halloween Plates - Babies & Toddlers | The Crafty Bug Café <09:30>
www.facebook.com/events/633906794996278
==== WEDNESDAY 19 OCTOBER ====
---- Live Music ----
Nature TV (dream pop, Brighton) | Heartbreakers <19:30>
www.facebook.com/events/784804496054567
The Snuts (indie rock, West Lothian - Scotland) | Engine Rooms <19:00>
www.facebook.com/events/3156485084602155
---- Shows ----
Simon Day & Friends (comedy) | The Stage Door <20:00>
www.facebook.com/events/673410587103356
An Evening of Live Storytelling | Retro Cafe <19:30>
www.facebook.com/events/3339189456314619
---- Events ----
Kickboxing & Fitness | Drummond Centre <19:30>
www.facebook.com/events/451399160409576
October Get Together - Bring Your Own Book | October Books <19:00>
www.facebook.com/events/491903922371659
D&D Drop Inn | Board in the City <19:00>
www.facebook.com/events/374756748124927
Community Club | St. James' Park <11:00>
www.facebook.com/events/1002999756984239/?event_time_id=1002999836984231
Community Cafe and Pantry | The Art House <11:00 and 18:00>
www.facebook.com/events/414825577501392
==== THURSDAY 20 OCTOBER ====
---- Live Music ----
Eivør (modern Nordic folk, Faroe Islands) | Engine Rooms <19:00>
www.facebook.com/events/496742388895395
King King (blues rock, Glasgow) | The 1865 <19:30>
www.facebook.com/events/672550617501512
Melts (psychedelic indie, Ireland) | Heartbreakers <19:30>
www.facebook.com/events/527363372274301
Trashed (rock) | Suburbia <19:00>
www.facebook.com/events/635142447875725
Support: S0dds
Jack & Bas (blues) | Belgium and Blues <20:30>
www.facebook.com/events/1109564479927247
Fuzzpills (alt rock, Fareham) + Tooth + Chig + Wait for the River | The Stage Door <19:30>
www.facebook.com/events/610011113962084
The Big Moon (indie rock, London) - Here Is Everything Instore | Vinilo Record Store <18:00>
www.facebook.com/events/1319588741779379
Open Mic | The Rockstone <19:00>
www.facebook.com/events/417467097243697
Thursday Open Mic Night | The Dolphin, St Denys <19:30>
www.facebook.com/events/3239579119652431/?event_time_id=3363199717290370
---- DJs and Club Nights ----
Chase & Status | Switch <22:00>
www.facebook.com/events/1919124544951823
Riddm Vinyl Sesh | Overdraft, Shirley <06:00>
www.facebook.com/events/640580827437661
---- Shows ----
Words at Whiskey (spoken word) | Whiskey Blue <19:30>
www.facebook.com/events/5122494724546533
Paul Case (spoken word): Dead White Anarchists + Dave Hubble + Open Mic | The Art House <19:30>
www.facebook.com/events/1237936286945988
Northern Ballet: The Little Mermaid | Mayflower Theatre <19:30>
www.facebook.com/events/259917272930617
Don't Stop Believin' | MAST (Mayflower Studios) <19:30>
www.facebook.com/events/1208875969947416
---- Events ----
Community Cafe and Pantry | The Art House <11:00>
www.facebook.com/events/1270980186986921
Health Walks - Weston Shore | On The Water Cafe <11:00>
www.facebook.com/events/919570805670299/?event_time_id=919570825670297
Thinking the Footsteps of the Friars Guided Walk | Tudor House Museum <10:30>
www.facebook.com/events/1074632473179293
Health Walks - The Common | The Cafe at the Hawthorns <10:30>
www.facebook.com/events/421657159882177/?event_time_id=421657216548838
Bike Doctor - Environmental Day at Solent University | Solent University, Southampton <10:00>
www.facebook.com/events/434390612139927
==== FRIDAY 21 OCTOBER ====
---- Live Music ----
CoCo and the Butterfields (folk pop, Canterbury) ( 10th Anniversary Tour ) + Gecko | The Joiners <19:30>
www.facebook.com/events/432463899031193
Mary Jane (folk rock, Southampton) | Cricketers Bedford Place <21:00>
www.facebook.com/events/493533236022726
Bootleg Blondie ft. Gary Valentine (tribute) | The Brook <20:30>
www.facebook.com/events/421837989986680
Daniel Eagle (singer-songwriter, Southampton) | Whiskey Blue <20:00>
www.facebook.com/events/652748633135354
All Better (alt-rock, Brighton) + Say it Anyway | Suburbia <19:30>
www.facebook.com/events/3353791571511000
Pete Harris Blues Band | The Platform Tavern <21:00>
www.facebook.com/events/5348717681901534
Porridge Radio (art-rock, Brighton) | The 1865 <19:30>
www.facebook.com/events/1353941601735769
Katey Brooks (indie folk, Bristol) | Hanger Farm Arts Centre, Totton <19:30>
www.facebook.com/events/755308035485449
Struck/Down (doom metal, Kent) + Earthborn Kings + Aventurine | The Hobbit <17:00>
www.facebook.com/events/1102651933730110
Twisted Open Mic | Oasis Bar <20:00>
www.facebook.com/events/5546309068791181
---- Live Music (Covers) ----
First Rule (alt rock) | The Stage Door <19:00>
www.facebook.com/events/717470362679313
---- DJs and Club Nights ----
Silky | Switch <22:30>
www.facebook.com/events/494442075816147
Dance 98 - 90s Club Night | Heartbreakers <22:00>
www.facebook.com/events/5717002875026209
Reggaeton Party | Engine Rooms <22:00>
www.facebook.com/events/1012767159421425
Ryan Lane | The Quarter Lounge <20:30>
www.facebook.com/events/500794905014583
---- Events ----
Tales at the River's Edge Story Club | St Denys Church & St Denys Boat Club <20:00>
www.facebook.com/events/620426566382248
The Greatest Digital Fireworks Show | Westquay <18:00>
www.facebook.com/events/661766345379771
Parklife Cafe Toddler Group | Parklife Cafe, St James Park <10:00>
www.facebook.com/events/1746617215731169/?event_time_id=1746617232397834
Southampton Totally Spooking Out Trail | Many Locations, City Centre <09:00>
www.facebook.com/events/1990680647796989
Gambler's Hand (classic rock and blues) | The Rover Inn <20:00>
www.facebook.com/events/963537108381643
==== SATURDAY 22 OCTOBER ====
---- Live Music ----
The Manatees (indie-pop, Southampton) + Arcade Hearts (indie, Portsmouth) | The Joiners <19:30>
www.facebook.com/events/1368039810389844
Samantha Fish (singer-songwriter, Kansas City - Missouri - USA) | The Brook <19:30>
www.facebook.com/events/1107670413392282
Bury Tomorrow (metalcore, Southampton) + August Burns Red + Novelists | Southampton Guildhall <19:00>
www.facebook.com/events/2865380880359474
Daniel Eagle Band (singer-songwriter, Southampton) | Cricketers Bedford Place <21:00>
www.facebook.com/events/607445807743358
Hattie Jacques (mod-soul-britpop, Southampton) | Saints Pub <21:00>
www.facebook.com/events/455182413341096
Dare (rock, Oldham) with Special Guest Troy Redfern | The 1865 <19:00>
www.facebook.com/events/432371295308045
A Public Disservice Announcement 35 (punk showcase): The Domestics (punk, Suffolk) / Zero Again / Masquerader (post-hardcore, Reading) | The Hobbit <19:00>
www.facebook.com/events/420890360131847
---- Live Music (Covers) ----
The Decatonics (ska, Dorset) | 5 Rivers <20:30>
www.facebook.com/events/815053269475468
---- DJs and Club Nights ----
Tribal Drum Syndicate | Suburbia <23:00>
www.facebook.com/events/765310978104304
Black Parade (emo anthems) | The Hobbit <23:00>
www.facebook.com/events/1474010486375806
Simply Urban | Cafe Parfait <22:00>
www.facebook.com/events/1152748605671637
Everything Prince - With DJ Stevo and Kazzanova (funk, Southampton) | The Quarter Lounge <20:30>
www.facebook.com/events/495221925950804
Club Nitty Gritty | Belgium and Blues <20:00>
www.facebook.com/events/415027583919199
Day of the Dandy | Overdraft, Shirley <14:00>
www.facebook.com/events/1302170967253898
Platinum Sessions | The Winston Hotel <14:00>
www.facebook.com/events/814246856396779
---- Shows ----
The Travelling Talesman Presents: Inana - Mistress of Heaven and Earth | The Art House <19:30>
www.facebook.com/events/2043225209195599
La Voix (drag) | MAST (Mayflower Studios) <19:30>
www.facebook.com/events/647277749901303
---- Events ----
Unity 6th Birthday Party | Unity Brewing Co Tap <12:00>
www.facebook.com/events/1106114836709078
Bottomless Brunch | Mango Thai Tapas - Ocean Village <12:00>
www.facebook.com/events/467265065375225
Author Talk: The Ongoing Quest for Identity with Kabir Kareem-bello | October Books <11:00>
www.facebook.com/events/1422285884959435
Apple Day | Sholing Valleys Study Centre <11:00>
www.facebook.com/events/1096758124531976
Dia De Los Muertos - Day of the Dead | River Hamble Country Park <10:00>
www.facebook.com/events/799763181445215
==== SUNDAY 23 OCTOBER ====
---- Live Music ----
Perfect Parachute Picture (alt-rock, Sheffield) | The Hobbit <20:00>
www.facebook.com/events/1970748123122033
ft. Bitter Self Exploitment
The Dead Revival (rock, Isle of Wight) | Heartbreakers <19:15>
www.facebook.com/events/794449421691761
Alexisonfire (post-hardcore, Niagara - Canada) | Southampton Guildhall <19:00>
www.facebook.com/events/1193458538071513
Hollie Cook (tropical pop, London) | The Joiners <19:00>
www.facebook.com/events/275464118086041
Skamaggedon (ska, Southampton) | Woolston & District Trades & Labour Club <15:00>
www.facebook.com/events/625529239014941
Charley Macaulay (vocalist, Southampton) | Whiskey Blue <14:00>
www.facebook.com/events/3539736752923449
---- Shows ----
Maisie Adam - Buzzed | MAST (Mayflower Studios) <20:00>
www.facebook.com/events/717733146153793
The Sensational 60s Experience | Mayflower Theatre <19:30>
www.facebook.com/events/765146824750370
---- Events ----
Sangha Arts: Songs, Poetry, Storytelling | Triratna Southampton Buddhist Centre <18:00>
www.facebook.com/events/1698338437250263
No Wrong Door - Make a Connection (gaming Sessions) | Board in the City <16:00>
www.facebook.com/events/472403984759955/?event_time_id=472404011426619
Southampton vs Arsenal | St Mary's Stadium <14:00>
www.facebook.com/events/1538124883272583
Democracy Café - What Do You Think Needs Discussing? | God's House Tower <14:00>
www.facebook.com/events/821223425728640
Gardening | Bitterne railway station <11:00>
www.facebook.com/events/2188120954690589
Steamcosies 3rd Birthday at Bursledon's Halloween Bash | Bursledon Brickworks Museum <11:00>
www.facebook.com/events/656317086114502
Writers' Day - Eco-focus | MAST (Mayflower Studios) <09:45>
www.facebook.com/events/757914248645780
Happy Cafe Sundays | Parklife Cafe, St James Park <10:00>
www.facebook.com/events/1693472727677064/?event_time_id=1693472764343727
Banister Litter Pick | Meet at the junction of Westrow and Archers Roads <02:30>
www.facebook.com/events/383809403952963
==== MONDAY 24 OCTOBER ====
---- Live Music ----
PVA (indie / techno, London) | The Joiners <19:30>
www.facebook.com/events/3228904567369692
Tallies (indie pop, Toronto - Canada) | Heartbreakers <19:30>
www.facebook.com/events/785709245900142
---- Events ----
Cycling Campaign Social Day | Cafe Thrive Southampton <18:00>
www.facebook.com/events/2006177913064231
Lunar Yoga with Gill | Gaia Health Store <18:00>
www.facebook.com/events/782033759738219/?event_time_id=782033773071551
Memories, Tea & Me | Freemantle Community Centre <11:30>
www.facebook.com/events/795250291722488/?event_time_id=795250305055820
Community Club | St. James' Park <11:00>
www.facebook.com/events/1002999756984239/?event_time_id=1002999800317568
Pop Up Pottery Painting | The Mercantile Flea, Bitterne <10:30>
www.facebook.com/events/948490226554133
Health Walks - The Common | The Cafe at the Hawthorns <10:00>
www.facebook.com/events/421657159882177/?event_time_id=421657263215500