From a Hungarian string quartet to a vegan market, there's plenty to warm you up this week in Southampton, what will you be going to?
Trainspotting live is as gruesome as it sounds, but highly recommended. Mr Bruce always brings the energy. Funke and the Two Tone Baby is my pick of the week - just a joyous event to unleash your inner bonobo at. Knit the Walls opens its exhibition at God's House Tower, why not go along and have a great coffee and pastry whilst you're at it?
There are plenty of club nights too, from DJ collective Born on Road, to a daytime DnB session from riddm, and a reggae roots dance at The Alex.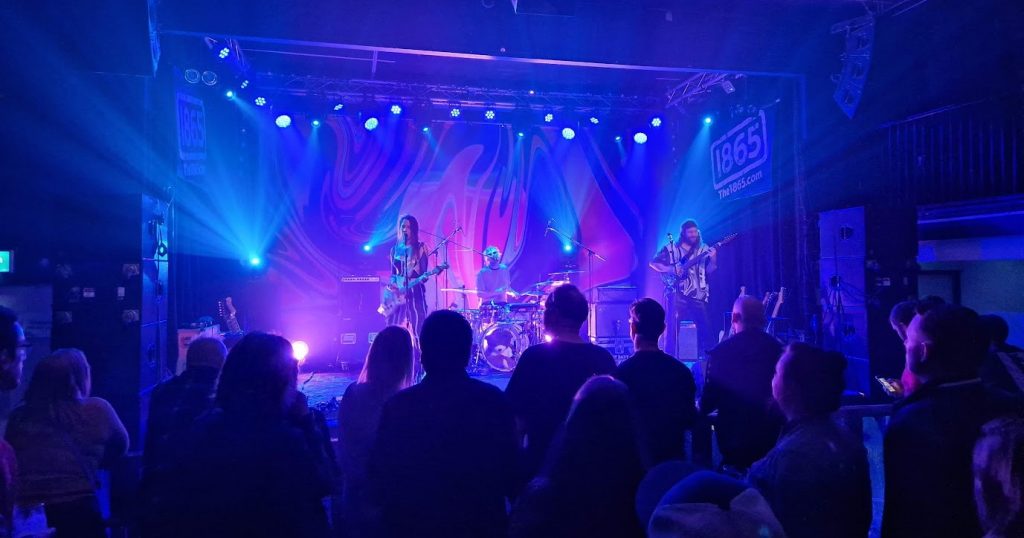 ==== TUESDAY 08 NOVEMBER ====
---- Live Music ----
Don Vappie and Jazz Creole | Turner Sims <20:00>
www.facebook.com/events/358730803059733
Groove Bakers - Hot Winter Blues Jam | Cricketers Bedford Place <19:00>
www.facebook.com/events/646320113757699
Soul Asylum (rock, Minneapolis - USA), Everclear | The 1865 <18:00>
www.facebook.com/events/803413730798916
Open Mic Night with Milly Thimaras | Whiskey Blue <20:00>
www.facebook.com/events/1070684976954422
Over the Under (groove metal, Poland) | The Alexandra <18:00>
www.facebook.com/events/429157586034525
---- Events ----
An Evening with Jim Mccalliog | St Mary's Stadium <19:30>
www.facebook.com/events/852415592432830
November Reading Group: Post Internet Far Right | October Books <19:30>
www.facebook.com/events/503182781848185
Brewdog Southampton Tuesday Pub Quiz | BrewDog Southampton <19:30>
www.facebook.com/events/368433965383627/?event_time_id=368434012050289
Full Moon Swim | Andark Lake <19:00>
www.facebook.com/events/1525230617976000
Health Walks - The Common | The Cafe at the Hawthorns <14:00>
www.facebook.com/events/421657159882177/?event_time_id=421657249882168
New Course: Being Yourself - Being with Others | Triratna Southampton Buddhist Centre <19:00>
www.facebook.com/events/678547823610774
Adult Friends of Lego Meet-up | Mettricks Woolston Waterside <18:30>
www.facebook.com/events/801729237752806
==== WEDNESDAY 09 NOVEMBER ====
---- Live Music ----
Wishbone Ash (classic 70s rock, Torquay) – Argus UK Tour 2022 | The Brook <20:30>
www.facebook.com/events/440340651076737
Katie Malco (indie rock, Northampton) | Heartbreakers <20:00>
www.facebook.com/events/735806940809341
---- Shows ----
Trainspotting: Live | MAST (Mayflower Studios) <20:00>
www.facebook.com/events/4843568315760846
---- Events ----
Southampton vs Sheffield Wednesday | St Mary's Stadium <19:45>
www.facebook.com/events/444547054438391
Author Talk: An Evening with Shelina Permalloo | October Books <18:30>
www.facebook.com/events/502065078485921
Community Cafe and Pantry Wednesday Evenings | The Art House <18:00>
www.facebook.com/events/824415145369486
Community Club | St. James' Park <11:00>
www.facebook.com/events/1002999756984239/?event_time_id=1002999786984236
Mandala Rock Painting | St. James' Park <11:00>
www.facebook.com/events/683629009671124
Breakfast Networking Solent | Baboo Ji Vegetarian Kitchen <08:45>
www.facebook.com/events/644035987045916
==== THURSDAY 10 NOVEMBER ====
---- Live Music ----
Hugh Cornwell (rock, London) | The 1865 <20:00>
www.facebook.com/events/1027360814595860
Takács Quartet (string quartet, Budapest - Hungary) | Turner Sims <20:00>
www.facebook.com/events/443990253781131
Mr Bruce (hip-hop-swing) | The Joiners <19:30>
www.facebook.com/events/807119866959264
The Wonder Years (pop punk, Pennsylvania - USA) + Save Face + Beauty School | Engine Rooms <19:30>
www.facebook.com/events/576436650857853
The Rambling Club (indie, Southampton) | Heartbreakers <19:00>
www.facebook.com/events/820042156102467
Rooster Tooth (blues) | Belgium and Blues <20:30>
www.facebook.com/events/635494361451429
---- DJs and Club Nights ----
Bru-c Tour | Switch <22:30>
www.facebook.com/events/416944120403815
Rehab Thursday - Disney Emo Night | The Shooting Star <22:00>
www.facebook.com/events/5137289089708320
---- Events ----
Quiz Night | The Rockstone <20:00>
www.facebook.com/events/1337673846973890
Lettering and Abstract Watercolour Workshop | 23 Manor Farm Road <19:30>
www.facebook.com/events/812555839866426
Community Cafe and Pantry Thursday Daytimes | The Art House <11:00>
www.facebook.com/events/1200284577223193
Boom Battle Bar - Grand Opening | Boom Battle Bar Southampton <11:00>
www.facebook.com/events/807083583953185
Health Walks - The Common | The Cafe at the Hawthorns <10:30>
www.facebook.com/events/421657159882177/?event_time_id=421657246548835
Give a Gift 24 Hour Broadcast | Voice FM <09:00>
www.facebook.com/events/1727311287642265
==== FRIDAY 11 NOVEMBER ====
---- Live Music ----
Funke and the Two Tone Baby (one man electro-blues explosion) | Heartbreakers <19:00>
www.facebook.com/events/1292876144570242
Los Pacaminos (Tex-Mex, London) | The Brook <21:00>
www.facebook.com/events/447899266905031
Provincials (dark alt classical jazz) + Rick Foot | The Art House <19:30>
www.facebook.com/events/886867695605453
Mystic Peach (indie, Southampton) + Defcon Lawless (hip-hop, Southampton) + PVE | The Joiners <19:30>
www.facebook.com/events/441914724460721
Alt-rock Night | The Attic, Totton <19:00>
www.facebook.com/events/822373435467811
Voodoo Room - A Night of Hendrix, Clapton & Cream | Hanger Farm Arts Centre, Totton <20:00>
www.facebook.com/events/1101561327053082
Pedigree Jazz Band | Sarisbury Green Community Centre <22:00>
www.facebook.com/events/1125393924852843
Milly Thimaras (indie, Southampton) | Cricketers, Bedford Place <21:00>
www.facebook.com/events/521696246208457
---- Live Music (Covers) ----
Ayisha & Lorne (motown) | Whiskey Blue <21:00>
www.facebook.com/events/1406381713187165
Lucky Sonnets | The Mercantile Flea, Bitterne <19:30>
www.facebook.com/events/1171351213464134
Soul Queen (motown/soul) | The Peartree Inn <20:30>
www.facebook.com/events/1279345676250518
Kit Shickers | The Dolphin, St Denys <21:00>
www.facebook.com/events/824867838789291
The Italian Job | The Yacht, Woolston <21:00>
www.facebook.com/events/652102823018293
Blink Daze (pop punk) Pub | The Hobbit <20:00>
www.facebook.com/events/1499272240553035
---- DJs and Club Nights ----
Disco 2000 - 00s Club Night | Heartbreakers <22:30>
www.facebook.com/events/1120978231868714
Ballersnight | Buddha Lounge <22:00>
www.facebook.com/events/438793711691445
Dick & Dom Tour | POPworld Southampton <21:00>
www.facebook.com/events/1072438790300847
Flashback Friday with DJ Paul Mico | The Quarter Lounge <20:30>
www.facebook.com/events/640003007630554
---- Events ----
Knit the Walls Exhibition Opening Event | God's House Tower <18:00>
www.facebook.com/events/1065284347474840
New Youth Choir Free Taster Session - Superstars Singers | Sholing Community Centre <16:30>
www.facebook.com/events/827746785310506
Exhibition Launch: Solent University Artists Collective | October Books <15:00>
www.facebook.com/events/425097886459834
Parklife Cafe Toddler Group | Parklife Cafe, St James Park <10:00>
www.facebook.com/events/1746617215731169/?event_time_id=1746617259064498
==== SATURDAY 12 NOVEMBER ====
---- Live Music ----
Chicago 9 (rhythm & blues, Southampton) | The Dolphin, St Denys <21:00>
www.facebook.com/events/829793971392749
Bon Giovi (tribute) | The Brook <20:30>
www.facebook.com/events/717795359317310
The Alter Eagles (tribute) | Hanger Farm Arts Centre, Totton <19:30>
www.facebook.com/events/4994024920686583
TV Priest (punk, London) | The Joiners <19:30>
www.facebook.com/events/996825144550785
Hattie Jacques (mod-soul-britpop, Southampton) and The Modules (rock 'n roll) | The 1865 <19:00>
www.facebook.com/events/1344961046016214
Cabin Boy Jumped Ship (metalcore, Leicestershire) + The Last Siren + Infirm of Purpose + Eternal Gloom | Suburbia <19:00>
www.facebook.com/events/805862883986260
Fear (hardcore, Southampton) | The Attic, Totton <19:00>
Support: Ruina, Conspire Against
www.facebook.com/events/689543952234789
Saxon (heavy metal, Barnsley) | Southampton Guildhall <19:00>
www.facebook.com/events/510286687149509
Emily Portman & Rob Harbron (folk) | The Art House <18:30>
www.facebook.com/events/748116422894068
Drew Hall Trio | Belgium and Blues <21:30>
www.facebook.com/events/3144008132579049
---- Live Music (Covers) ----
Ten Years Too Late (00s Emo Tribute) | The Hobbit <19:30>
www.facebook.com/events/588518023021567
G & T | La Baronia <19:00>
www.facebook.com/events/641396884228968
Gastric Band (rock) Live | The Wellington Arms <21:00>
www.facebook.com/events/582109363049861
The Rover Presents: The Dead Zeds (rock, Eastleigh) | The Rover Inn <20:30>
www.facebook.com/events/605824334224138
The Dead Zeds (rock, Eastleigh) at the Rover | The Rover Inn <20:30>
www.facebook.com/events/437401324984997
The Jays (pop) | The Bricklayers Arms <20:00>
www.facebook.com/events/475156774628020
CarbonCopy | The Bittern <19:30>
www.facebook.com/events/370819298073293
The Beat Quarter | Station Pub, Bitterne Park <19:00>
www.facebook.com/events/1736481383395652
---- DJs and Club Nights ----
Roots Dance (reggae, roots) | The Alexandra <19:00>
www.facebook.com/events/506040771104003
Born on Road (DJ Collective) Ft Aries B2b Kelvin 373 B2b Selecta J-man | Engine Rooms <19:00>
www.facebook.com/events/1021576805184331
DJ Hammy Presents Supersonic | The Greedy Flea <18:00>
www.facebook.com/events/409813810865764
Panic at the Emo Club Night | Suburbia <23:00>
www.facebook.com/events/645179610569249
Goddard | Switch <22:30>
www.facebook.com/events/3239999389600969
Simply Saturday - Simply Urban | Cafe Parfait <22:00>
www.facebook.com/events/1526948731092531
Dis-obey Club Night | The Hobbit <22:00>
www.facebook.com/events/519472203009515
Quiet Life | The Shooting Star <21:00>
www.facebook.com/events/498374002164449
DJ Kazzanova (funk, Southampton) - Party Night Floorfillers | The Quarter Lounge <20:30>
www.facebook.com/events/937497320466973
---- Events ----
Vegan Market | Guildhall Square, SO14 7DU <10:30>
www.facebook.com/events/3219178441640296
The Touch Network Winter Warmer | St Denys <19:00>
www.facebook.com/events/791194555502224
Soton Makers Christmas Market | Southampton City Art Gallery <10:00>
www.facebook.com/events/3357272054513011
5 Rhythms Dance | Tracie's Latin Club <16:00>
www.facebook.com/events/610977460808385
Pokemon Release Weekend Event - Build and Battle | Board in the City <12:00>
www.facebook.com/events/1156220721914443
Barrio Cultura Part 3 | Overdraft, Shirley <12:00>
www.facebook.com/events/828567498286793
Community Cafe Saturday Daytimes | The Art House <11:00>
www.facebook.com/events/848793892822864
Author Talk: The Prentice-boy by Ray Rumsby | October Books <11:00>
www.facebook.com/events/669068641229028
Funfair and Fireworks | Greta Park, Hedge End <18:00>
www.facebook.com/events/1264031307665455
Litter Pick | Peartree Green <10:00>
www.facebook.com/events/711512136585791
Rahanni Energy Healing with Joe and Karen | Gaia Health Store <09:00>
www.facebook.com/events/596652685524105
Kicking Up a Stink | Riverside Park <14:00>
www.facebook.com/events/5554440111338356
This Crisis Demands Action - Mass Mobilisations for Climate Justice | Guildhall Square <12:45>
www.facebook.com/events/442132161365500
Christmas Market - Hedge End | Hedge End Salvation Army Church & Community Centre <09:30>
www.facebook.com/events/1116549732626490
==== SUNDAY 13 NOVEMBER ====
---- Live Music ----
WSTR (pop punk, Liverpool) + Superlove | The Joiners <19:00>
www.facebook.com/events/770747440710614
Charley Macaulay (vocalist, Southampton) + Lucy Rachel Whetren + J Fashole Luke (Southampton) | Whiskey Blue <14:00>
www.facebook.com/events/3539736752923449
Soul Sounds Youth and Adults Performance Choirs | Whiskey Blue <17:30>
www.facebook.com/events/596904955434319
---- Live Music (Covers) ----
L1nkn_p4rk (tribute) Hybrid Theory special | The Loft <17:00>
Support: Drip Fed Empire, Days In Wake
www.facebook.com/events/682058709879377
Tina & The Beans | The Rover Inn <15:30>
www.facebook.com/events/811036826598320
---- DJs and Club Nights ----
Riddm Sunday Session | Heartbreakers <11:00>
www.facebook.com/events/792039492098238
---- Shows ----
LDN Wrestling | Hanger Farm Arts Centre, Totton <14:00>
www.facebook.com/events/505305357934101
---- Events ----
Drum Bath with Let it Go Meditation | Gaia Health Store <18:30>
www.facebook.com/events/1282870922482011
NWD - Make a Connection (gaming Sessions) | Board in the City <16:00>
www.facebook.com/events/472403984759955/?event_time_id=472404021426618
Steamcosies & Chums Drop-in | The Titanic <13:30>
www.facebook.com/events/5388465991271599
Wooden Christmas Tree Workshop | The Crafty Bug Café <13:00>
www.facebook.com/events/561773885598477
Happy Cafe Sundays | Parklife Cafe, St James Park <10:00>
www.facebook.com/events/1693472727677064/?event_time_id=1693472791010391
Letting Go, Accepting Change | Kadampa Meditation Centre <10:00>
www.facebook.com/events/608497600962657
==== MONDAY 14 NOVEMBER ====
---- Events ----
Mansbridge Melody Makers with SoCo Music Project | Round About Café <18:00>
www.facebook.com/events/409650077991584
Pilates | Monty's Bike Hub <13:00>
www.facebook.com/events/778705113218597
Community Club | St. James' Park <11:00>
www.facebook.com/events/1002999756984239/?event_time_id=1002999806984234
Health Walks - The Common | The Cafe at the Hawthorns <10:00>
www.facebook.com/events/421657159882177/?event_time_id=421657173215509