Yesterday, Southampton was able to get together and enjoy the return of Southampton Pride to the August Bank Holiday weekend, starting with a new parade route from Queens Park leading to an 11-hour celebration at Guildhall Square, with the Guildhall providing a stunning backdrop for the newly located main stage.
There will be an Official Pride Aftermovie released soon, but until then if you'd like a taste of the main stage action there are recordings of the live streams on Facebook.

Southampton Pride Livestream Part One
– Hunting Hearts
– Aura Jay (compère)
– Bella Black
– MAST Theatre (performing from Fantastically Great Women Who Changed The World)
– Timeless
– Lucinda Lashes (compère)
– Meg Emelie and Lawrence (2:17:30)
– The Neptune Girls (2:42:10)
– DJ Claire Fuller
– The Dolly Show (3:23:40)
– Golden Groove (3:58:30)
– Cherry Liquor (compère from 4:41:20)
– Eva Iglesias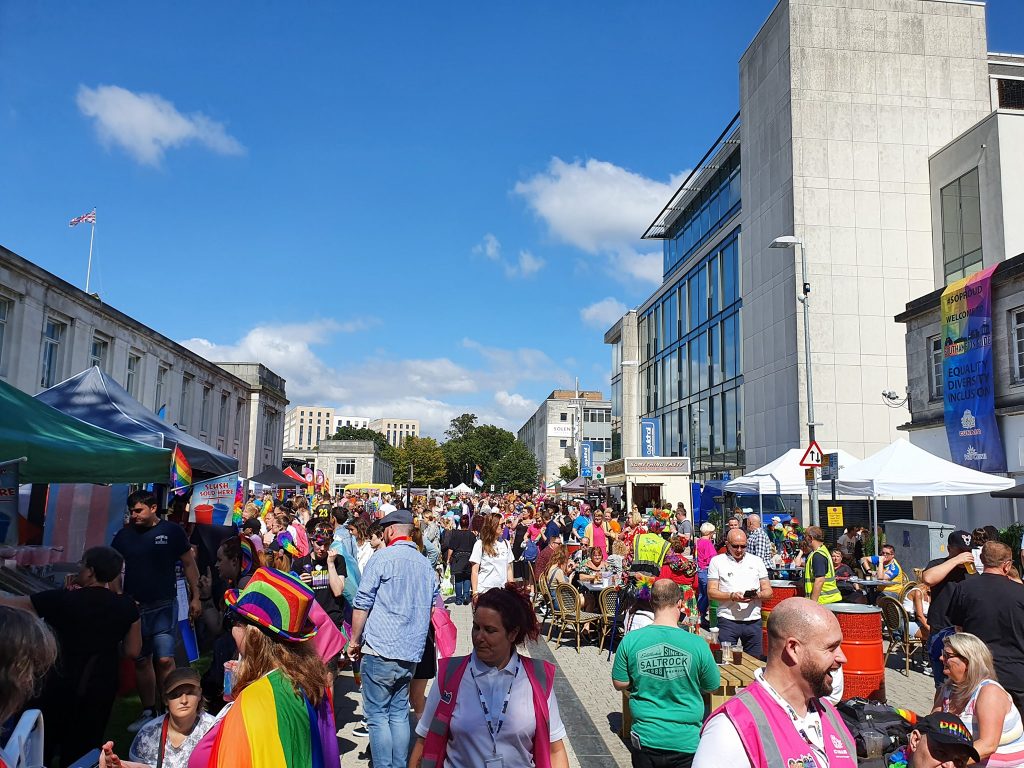 Southampton Pride Livestream Part 2
– Our Propaganda
– Jade Chamberlain (as Kylie)
– Joe Black (compère from 1:14:30)
– Sam Callahan (1:19:20)
– Dawn
– Shannon B
The multi-camera set up, giant screen and live stream provided by the students of Solent University was an impressive feat, and I'm sure one appreciated by those who were isolating and could not attend. Unfortunately not all the acts are available online – for example the energetic closing performance by Donna Marie as Lady Gaga (pictured below), and none of the great acts on the second 'SO Stage' were live streamed (I made a note to look up Anna Foye who was awesome).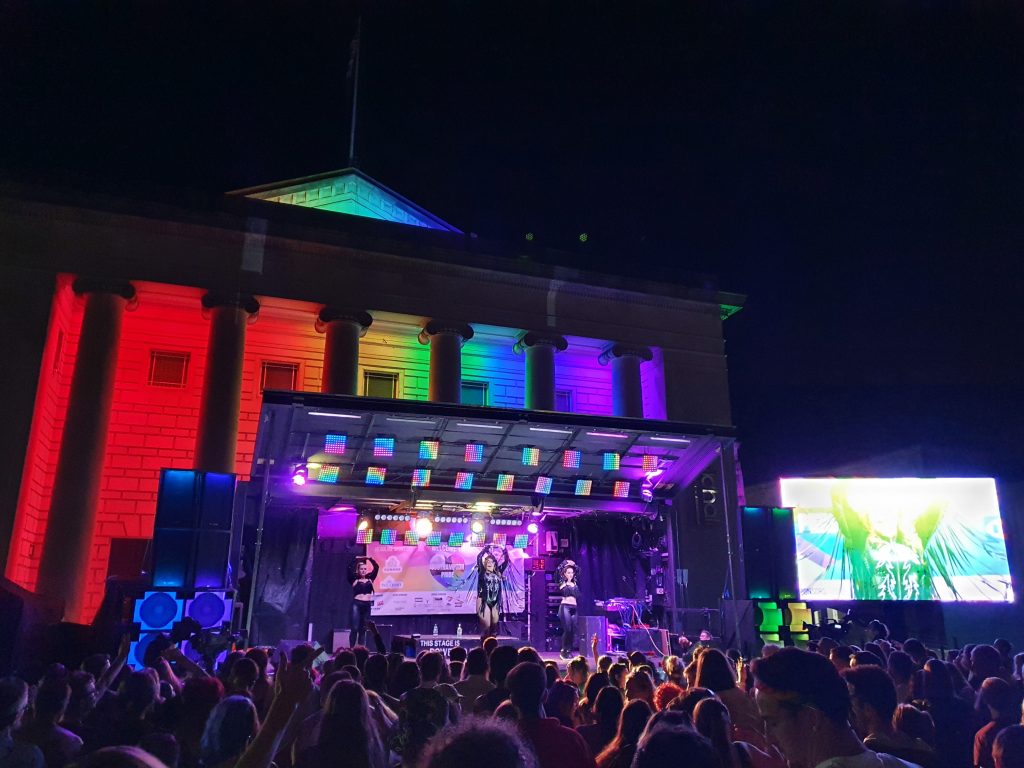 Putting together a large event such as Pride is a monumental logistical undertaking at the best of times. Given the stories coming out of other events concerning the lack of basic facilities such as toilets is to the credit to the organisers that everything ran so smoothly. The new parade route starting in Queens Park worked well, as did a brilliant and varied programme of performances on both stages, and important details such as the acoustics, well stocked bars, food trucks and well maintained toilets.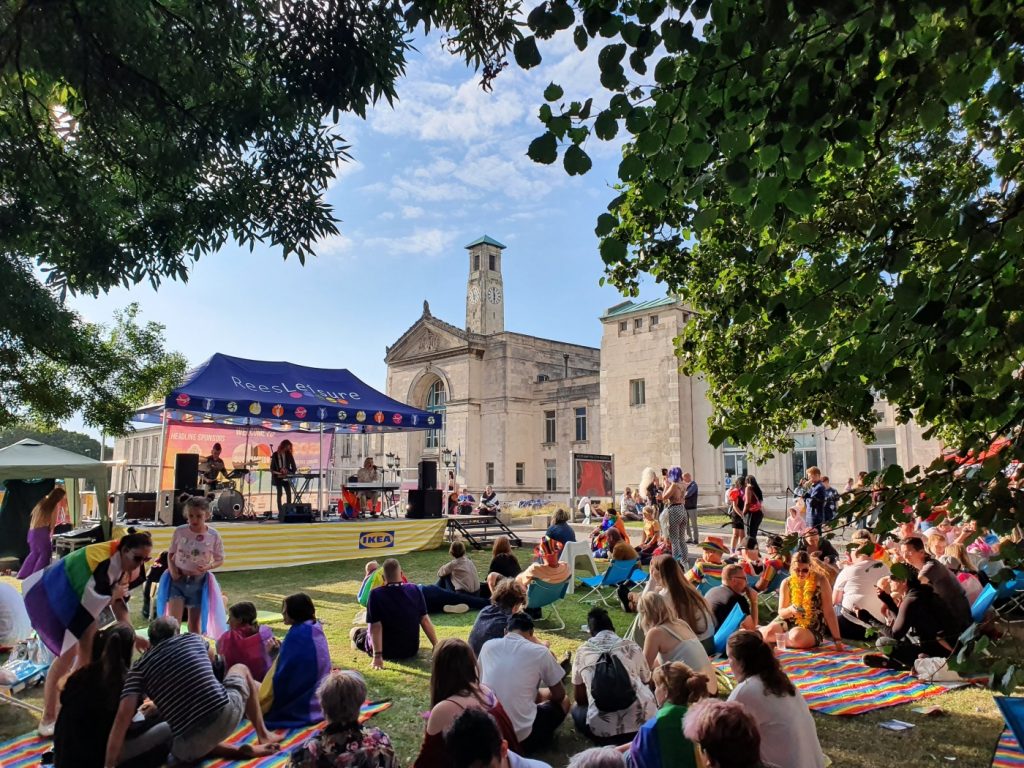 Most importantly, the city was able to get together to celebrate, support and demand the universal freedom to be who you want to be and the freedom to engage in any consenting adult relationships. Unfortunately this fundamental freedom is still not enjoyed by many around the world.
Southampton Pride is a free event to attend (something that is making it more unique by the year), but not a free event to put on. If you'd like to support Pride there's usually a donations bucket in The Stage Door / Painted Wagon, or there are volunteer opportunities and an official merchandise shop.

My thanks to all the organisers, volunteers and supporting businesses and organisations for making Southampton Pride an event we can all enjoy, and be proud of.