Lots of highlights this week but here are a few of my favourites:
– The Arches Open Studios this Saturday is Free in 'catacombs' beneath Central Bridge. There's live music, workshops, food, drinks from the Butchers Hook, and all 22 resident artists will be presenting their work.
– Craft Beer South at The 1865 showcasing 15 mainly-South
– Sounds for Solace (raising for Phyliss Tuckwell Hospice) on Saturday will be a special event, with lots of beautiful local musical artists
– The 'Eel Run' at Mansbridge is a quirky local event celebrating our European eel
What will be you doing this week Southampton? Please like and share.
Photo: The Vivienne performing at Southampton Pride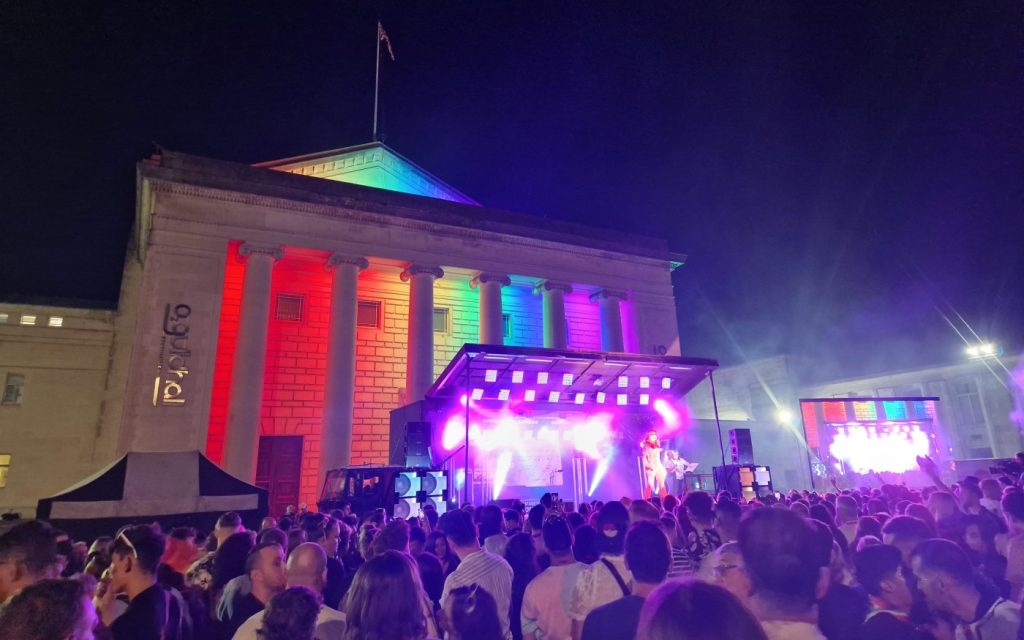 ==== TUESDAY 29 AUGUST ====
—- Live Music —-
Unknown Mortal Orchestra + Frankie Knight | The 1865 <19:30>
www.facebook.com/events/655077613121687
—- Events —-
Dementia-friendly: Superman: The Movie (45th Anniversary) | Harbour Lights <11:00>
www.facebook.com/events/178749151703862
Family Cooking Sessions | Monty's Community Hub <10:30>
www.facebook.com/events/653714326665073/?event_time_id=653715369998302
Weston Park Primary New Starter Meet Up | Jumpin' Jax <10:00>
www.facebook.com/events/3358347121073180
Art for All: Silhouette Sun Prints Free Workshop | Southampton City Art Gallery <10:00>
www.facebook.com/events/1193831404595691
August Chaos Meet Up | The Arches Studios, Captains Place <10:00>
www.facebook.com/events/251512010998998
==== WEDNESDAY 30 AUGUST ====
—- Live Music —-
Sunfruits | Heartbreakers <19:30>
www.facebook.com/events/1421804068663533
Plug & Play Open Mic & Jam Sessions | Suburbia <19:30>
www.facebook.com/events/816365536769077/?event_time_id=827607125644918
—- Events —-
Super Blue Moon Paddle | Swanwick Marina <21:30>
www.facebook.com/events/651648846909630
Relaxing Sound Bath | St Marks Institute, Southampton, 37 Victoria Road, SO199DY <19:30>
www.facebook.com/events/2301885420015577
Salsa Beginners Course with Salsa | Tracie's Latin Club <19:30>
www.facebook.com/events/1440597750023565
Cocktail Masterclass at Woodies Wine Bar 23 | Netley Abbey <19:30>
www.facebook.com/events/109308462123391
Urban Kiz – Passion Night Weds | Revolucion de Cuba Southampton <19:00>
www.facebook.com/events/1992876904419617
Community Club | St. James' Park <11:00>
www.facebook.com/events/2395627637259236/?event_time_id=2395627813925885
Art for All: Silhouette Sun Prints Free Workshop | Southampton City Art Gallery <10:00>
www.facebook.com/events/1772243203170567
Weston Shore Infant New Starter Meet Up | Jumpin' Jax <10:00>
www.facebook.com/events/741416524092530
==== THURSDAY 31 AUGUST ====
—- Live Music —-
Stay In Nothing (punk, London) & Split Chain | The Attic, Totton <19:00>
www.facebook.com/events/638433541685878
Jon Walsh (blues) | Belgium and Blues <20:30>
www.facebook.com/events/1347790646116252
Jazz Jam | Whiskey Blue <19:00>
www.facebook.com/events/687617283022595/?event_time_id=687617296355927
Snaffler (indie pop) | The Stage Door <19:00>
www.facebook.com/events/682062203376582
—- DJs and Club Nights —-
Fame Thursdays – Dave | Orange Rooms <20:00>
www.facebook.com/events/227050783638701
—- Events —-
Learn to Dance the Shim Sham | St Denys Social Club <19:00>
www.facebook.com/events/1012230346479703
August Book Club | Trago Lounge <19:00>
www.facebook.com/events/314030934363535
The Pet Pad Picture Pawty | The Pet Pad <18:00>
www.facebook.com/events/1735996256858427
Craft Beer South Fringe Three Hills Brewing Tto & Mtb | Belgium and Blues <16:00>
www.facebook.com/events/791918905999945
Tour for All: Bevois and the Bargate Walking Tour | Tudor House Museum <11:00>
www.facebook.com/events/1881237572276134
Fairy Doors (5+) | Tudor House Museum <10:30>
www.facebook.com/events/264431799415558
==== FRIDAY 01 SEPTEMBER ====
—- Live Music —-
Karnataka (prog rock, Swansea / Abertawe) | The Brook <19:30>
www.facebook.com/events/754220442921915
Colour TV (indie, Cornwall) | The Joiners <19:30>
www.facebook.com/events/643867774469406
Hot Dang Delux (rockabilly) | The Dolphin, St Denys <21:00>
www.facebook.com/events/986042666153516
Soul & Motown Night Live with Charley Stride & Cj Edwards | Whiskey Blue <20:00>
www.facebook.com/events/836932504703217
—- Live Music (Covers) —-
The Stingrayys (50s / 60s rock 'n roll) | Cricketers Bedford Place <21:30>
www.facebook.com/events/1583373462190254
The 45s (rock, Hampshire) | Robin Hood <21:00>
www.facebook.com/events/1207099509838813
—- Shows —-
That Gay Autistic Keyboard Tanktop Guy Work in Progress Tour (comedy) | The Stage Door <19:30>
www.facebook.com/events/6446694762113305
—- Events —-
Biodanza | Edmund Kell Unitarian Church <19:00>
www.facebook.com/events/742838160912907
Soul & Motown Supper Club | Southampton, England, U.K. <19:00>
www.facebook.com/events/233571846312940
An Evening with Football Legend Barry Fry | AFC Totton <19:00>
www.facebook.com/events/228938113455268
Art Society Autumn Exhibition | Harbour Lights <18:00>
www.facebook.com/events/669624424615008
Art for All: Clay Dogs (5+) | Southampton City Art Gallery <10:00>
www.facebook.com/events/2215436145318266
Bachata Spice Dancing | Revolution De Cuba, Southampton <19:30>
www.facebook.com/events/613541887503116
The Rainbow Centre Masquerade Ball | Solent Hotel & Spa <19:00>
www.facebook.com/events/217188294296807
==== SATURDAY 02 SEPTEMBER ====
—- Live Music —-
Subdued (Rock, Southampton) | The Firehouse <21:30>
www.facebook.com/events/312934171213128
Signs of the Swarm (deathcore, Pittsburgh – USA) | The Joiners <19:00>
Support: Harbinger, Mental Cruelty
www.facebook.com/events/1023784265697692
Bangover (thrash metal, London) + Secreum (metal, London) + Conspire Against + Them Bloody Kids | The Hobbit <18:30>
www.facebook.com/events/218148674211391
Sounds for Solace (raising for Phyliss Tuckwell Hospice) | The Stage Door <18:00>
ft. Johnny Boxcars, Lost Post, Electric Eden, The Rolling Substitutes, DJ Special Terry
www.facebook.com/events/1154902518506902
—- Live Music (Covers) —-
Rustyn George Trio (Portsmouth) | The Dolphin, St Denys <21:00>
www.facebook.com/events/1046800083396099
The Dead Zeds (rock, Eastleigh) | Ice House <21:00>
www.facebook.com/events/847791093144458
The Estelles (motown, Portsmouth) | Nursling & Rownhams Social Club <20:00>
www.facebook.com/events/201508715982315
—- DJs and Club Nights —-
Techno Rave | Suburbia <22:00>
www.facebook.com/events/633359765442175
Shockwave: Rock & Metal Night | The Shooting Star <21:00>
www.facebook.com/events/663182229204770
Rhythm & Bruges | Belgium and Blues <20:00>
www.facebook.com/events/627938855821423
—- Shows —-
Sounds for Solace | The Stage Door <19:00>
www.facebook.com/events/559174313003474
Charlie and the Chocolate Factory | Mayflower Theatre <12:00>
www.facebook.com/events/439152668707211
Magic Mike Tribute – UK Pleasure Boys (adult) | Engine Rooms <18:00>
www.facebook.com/events/184258564414656
—- Events —-
00s Throwback Bottomless Brunch | Orange Rooms <18:30>
www.facebook.com/events/671509794745151
Veracity Fun Day | Veracity Recreation Ground <13:00>
www.facebook.com/events/1030011391329890
Sunderland vs Saints | St Mary's Stadium <12:30>
www.facebook.com/events/669194041777198
Craft Beer South Festival | The 1865 <12:00>
ft Cult45 (daytime session), Soul 45 (evening session)
www.facebook.com/events/654820559910521
Hamble Food Festival 2023 | Hamble Foreshore <10:00>
www.facebook.com/events/1382120245700041
National Cinema Day Day | Harbour Lights <10:00>
www.facebook.com/events/815602396779990
Sluggaz September Slugfest 2023 | St Denys Community Centre <10:00>
www.facebook.com/events/683927433561978
My Permaculture Story | Aldermoor Community Farm <09:30>
www.facebook.com/events/659804679396716
Atmospheric Saturday | Copythorne Parish Hall <19:30>
www.facebook.com/events/170915095998249
==== SUNDAY 03 SEPTEMBER ====
—- Live Music —-
Dilettante (art rock, Manchester) | Heartbreakers <20:00>
www.facebook.com/events/565145529113707
The Virginmarys (rock, Macclesfield) + Sabres + Speaking of Witches (Heavy rock, Southampton) | The Joiners <19:00>
www.facebook.com/events/1188633938486488
Nina Nastasia (folk / Americana, Los Angeles – USA) | The 1865 <19:00>
www.facebook.com/events/691921696108153
Meg & Lewis | Figurati <13:00>
www.facebook.com/events/1681961075585589
—- Events —-
Miniatures Meet Up | Board in the City <17:00>
www.facebook.com/events/611175527643095/?event_time_id=611175584309756
Walking Tour | Migrant Southampton: Past & Present | Duke Of Wellington Southampton <14:00>
www.facebook.com/events/845880386531972
Southampton Fc Women V. Blackburn Rovers Women | St Mary's Stadium <14:00>
www.facebook.com/events/277759151601647
The Eel Run Procession | Mansbridge, Riverside Park <12:30>
www.facebook.com/events/9297124400305392
Bring and Buy | The Hobbit <11:30>
www.facebook.com/events/6729810410474041
Cars in the Square – The Southampton Automotive Show | Guildhall Square <10:00>
www.facebook.com/events/119181451184847
Free Yoga at the Common by Park Yoga | Southampton Common <09:30>
www.facebook.com/events/3531252733820066/?event_time_id=3531252800486726
Hampshire vs Somerset | The Rose Bowl <09:30>
www.facebook.com/events/712970783534843
==== MONDAY 04 SEPTEMBER ====
—- Live Music —-
Dirty Slippers (indie rock, Sárvár – Hungary) | The Attic, Totton <18:00>
www.facebook.com/events/120052717847611
Musical Monday with Nick Haynes | October Books <12:30>
www.facebook.com/events/852816152520965
—- Events —-
Monday Quiz | Humble Plumb <20:00>
www.facebook.com/events/2586830018131040/?event_time_id=2586830048131037
Quiz Night | Trago Lounge <20:00>
www.facebook.com/events/1827825970910316/?event_time_id=1827826024243644
Cuban Salsa + Bachata + SBK Party – With Dalia, Razvan & Xaris | Revolucion de Cuba Southampton <19:30>
www.facebook.com/events/1332942680884016/?event_time_id=1361097478068536
Community Club | St. James' Park <11:00>
www.facebook.com/events/725759072432920/?event_time_id=725759179099576
New Day 6-a-Side League | St Marks C Of E School, Shirley <19:00>
www.facebook.com/events/671870458336263
==== TUESDAY 29 AUGUST ====
—- Live Music —-
Unknown Mortal Orchestra + Frankie Knight | The 1865 <19:30>
www.facebook.com/events/655077613121687
—- Events —-
Dementia-friendly: Superman: The Movie (45th Anniversary) | Harbour Lights <11:00>
www.facebook.com/events/178749151703862
Family Cooking Sessions | Monty's Community Hub <10:30>
www.facebook.com/events/653714326665073/?event_time_id=653715369998302
Weston Park Primary New Starter Meet Up | Jumpin' Jax <10:00>
www.facebook.com/events/3358347121073180
Art for All: Silhouette Sun Prints Free Workshop | Southampton City Art Gallery <10:00>
www.facebook.com/events/1193831404595691
August Chaos Meet Up | The Arches Studios, Captains Place <10:00>
www.facebook.com/events/251512010998998
==== WEDNESDAY 30 AUGUST ====
—- Live Music —-
Sunfruits | Heartbreakers <19:30>
www.facebook.com/events/1421804068663533
Plug & Play Open Mic & Jam Sessions | Suburbia <19:30>
www.facebook.com/events/816365536769077/?event_time_id=827607125644918
—- Events —-
Super Blue Moon Paddle | Swanwick Marina <21:30>
www.facebook.com/events/651648846909630
Relaxing Sound Bath | St Marks Institute, Woolston <19:30>
www.facebook.com/events/2301885420015577
Salsa Beginners Course with Salsa | Tracie's Latin Club <19:30>
www.facebook.com/events/1440597750023565
Cocktail Masterclass at Woodies Wine Bar 23 | Netley Abbey <19:30>
www.facebook.com/events/109308462123391
Urban Kiz – Passion Night Weds | Revolucion de Cuba Southampton <19:00>
www.facebook.com/events/1992876904419617
Community Club | St. James' Park <11:00>
www.facebook.com/events/2395627637259236/?event_time_id=2395627813925885
Art for All: Silhouette Sun Prints Free Workshop | Southampton City Art Gallery <10:00>
www.facebook.com/events/1772243203170567
Weston Shore Infant New Starter Meet Up | Jumpin' Jax <10:00>
www.facebook.com/events/741416524092530
==== THURSDAY 31 AUGUST ====
—- Live Music —-
Stay In Nothing (punk, London) & Split Chain | The Attic, Totton <19:00>
www.facebook.com/events/638433541685878
Jon Walsh (blues) | Belgium and Blues <20:30>
www.facebook.com/events/1347790646116252
Jazz Jam | Whiskey Blue <19:00>
www.facebook.com/events/687617283022595/?event_time_id=687617296355927
Snaffler (indie pop) | The Stage Door <19:00>
www.facebook.com/events/682062203376582
—- DJs and Club Nights —-
Fame Thursdays – Dave | Orange Rooms <20:00>
www.facebook.com/events/227050783638701
—- Events —-
Learn to Dance the Shim Sham | St Denys Social Club <19:00>
www.facebook.com/events/1012230346479703
August Book Club | Trago Lounge <19:00>
www.facebook.com/events/314030934363535
The Pet Pad Picture Pawty | The Pet Pad <18:00>
www.facebook.com/events/1735996256858427
Craft Beer South Fringe Three Hills Brewing Tto & Mtb | Belgium and Blues <16:00>
www.facebook.com/events/791918905999945
Tour for All: Bevois and the Bargate Walking Tour | Tudor House Museum <11:00>
www.facebook.com/events/1881237572276134
Fairy Doors (5+) | Tudor House Museum <10:30>
www.facebook.com/events/264431799415558
==== FRIDAY 01 SEPTEMBER ====
—- Live Music —-
Karnataka (prog rock, Swansea / Abertawe) | The Brook <19:30>
www.facebook.com/events/754220442921915
Colour TV (indie, Cornwall) | The Joiners <19:30>
www.facebook.com/events/643867774469406
Hot Dang Delux (rockabilly) | The Dolphin, St Denys <21:00>
www.facebook.com/events/986042666153516
Soul & Motown Night Live with Charley Stride & Cj Edwards | Whiskey Blue <20:00>
www.facebook.com/events/836932504703217
—- Live Music (Covers) —-
The Stingrayys (50s / 60s rock 'n roll) | Cricketers Bedford Place <21:30>
www.facebook.com/events/1583373462190254
The 45s (rock, Hampshire) | Robin Hood <21:00>
www.facebook.com/events/1207099509838813
—- Shows —-
That Gay Autistic Keyboard Tanktop Guy Work in Progress Tour (comedy) | The Stage Door <19:30>
www.facebook.com/events/6446694762113305
—- Events —-
Biodanza | Edmund Kell Unitarian Church <19:00>
www.facebook.com/events/742838160912907
Soul & Motown Supper Club | Southampton, England, U.K. <19:00>
www.facebook.com/events/233571846312940
An Evening with Football Legend Barry Fry | AFC Totton <19:00>
www.facebook.com/events/228938113455268
Art Society Autumn Exhibition | Harbour Lights <18:00>
www.facebook.com/events/669624424615008
Art for All: Clay Dogs (5+) | Southampton City Art Gallery <10:00>
www.facebook.com/events/2215436145318266
Bachata Spice Dancing | Revolution De Cuba, Southampton <19:30>
www.facebook.com/events/613541887503116
The Rainbow Centre Masquerade Ball | Solent Hotel & Spa <19:00>
www.facebook.com/events/217188294296807
==== SATURDAY 02 SEPTEMBER ====
—- Live Music —-
Subdued (Rock, Southampton) | The Firehouse <21:30>
www.facebook.com/events/312934171213128
Signs of the Swarm (deathcore, Pittsburgh – USA) | The Joiners <19:00>
Support: Harbinger, Mental Cruelty
www.facebook.com/events/1023784265697692
Bangover (thrash metal, London) + Secreum (metal, London) + Conspire Against + Them Bloody Kids | The Hobbit <18:30>
www.facebook.com/events/218148674211391
Sounds for Solace (raising for Phyliss Tuckwell Hospice) | The Stage Door <18:00>
ft. Johnny Boxcars, Lost Post, Electric Eden, The Rolling Substitutes, DJ Special Terry
www.facebook.com/events/1154902518506902
—- Live Music (Covers) —-
Rustyn George Trio (Portsmouth) | The Dolphin, St Denys <21:00>
www.facebook.com/events/1046800083396099
The Dead Zeds (rock, Eastleigh) | Ice House <21:00>
www.facebook.com/events/847791093144458
The Estelles (motown, Portsmouth) | Nursling & Rownhams Social Club <20:00>
www.facebook.com/events/201508715982315
—- DJs and Club Nights —-
Techno Rave | Suburbia <22:00>
www.facebook.com/events/633359765442175
Shockwave: Rock & Metal Night | The Shooting Star <21:00>
www.facebook.com/events/663182229204770
Rhythm & Bruges | Belgium and Blues <20:00>
www.facebook.com/events/627938855821423
—- Shows —-
Charlie and the Chocolate Factory | Mayflower Theatre <12:00>
www.facebook.com/events/439152668707211
Magic Mike Tribute – UK Pleasure Boys (adult) | Engine Rooms <18:00>
www.facebook.com/events/184258564414656
—- Events —-
00s Throwback Bottomless Brunch | Orange Rooms <18:30>
www.facebook.com/events/671509794745151
Veracity Fun Day | Veracity Recreation Ground <13:00>
www.facebook.com/events/1030011391329890
Sunderland vs Saints | St Mary's Stadium <12:30>
www.facebook.com/events/669194041777198
Craft Beer South Festival | The 1865 <12:00>
ft Cult45 (daytime session), Soul 45 (evening session)
www.facebook.com/events/654820559910521
Hamble Food Festival 2023 | Hamble Foreshore <10:00>
www.facebook.com/events/1382120245700041
National Cinema Day Day | Harbour Lights <10:00>
www.facebook.com/events/815602396779990
Sluggaz September Slugfest 2023 | St Denys Community Centre <10:00>
www.facebook.com/events/683927433561978
My Permaculture Story | Aldermoor Community Farm <09:30>
www.facebook.com/events/659804679396716
Atmospheric Saturday | Copythorne Parish Hall <19:30>
www.facebook.com/events/170915095998249
==== SUNDAY 03 SEPTEMBER ====
—- Live Music —-
Dilettante (art rock, Manchester) | Heartbreakers <20:00>
www.facebook.com/events/565145529113707
The Virginmarys (rock, Macclesfield) + Sabres + Speaking of Witches (Heavy rock, Southampton) | The Joiners <19:00>
www.facebook.com/events/1188633938486488
Nina Nastasia (folk / Americana, Los Angeles – USA) | The 1865 <19:00>
www.facebook.com/events/691921696108153
Meg & Lewis | Figurati <13:00>
www.facebook.com/events/1681961075585589
—- Events —-
Miniatures Meet Up | Board in the City <17:00>
www.facebook.com/events/611175527643095/?event_time_id=611175584309756
Walking Tour | Migrant Southampton: Past & Present | Duke Of Wellington Southampton <14:00>
www.facebook.com/events/845880386531972
Southampton Fc Women V. Blackburn Rovers Women | St Mary's Stadium <14:00>
www.facebook.com/events/277759151601647
The Eel Run Procession | Mansbridge, Riverside Park <12:30>
www.facebook.com/events/9297124400305392
Bring and Buy | The Hobbit <11:30>
www.facebook.com/events/6729810410474041
Cars in the Square – The Southampton Automotive Show | Guildhall Square <10:00>
www.facebook.com/events/119181451184847
Free Yoga at the Common by Park Yoga | Southampton Common <09:30>
www.facebook.com/events/3531252733820066/?event_time_id=3531252800486726
Hampshire vs Somerset | The Rose Bowl <09:30>
www.facebook.com/events/712970783534843
==== MONDAY 04 SEPTEMBER ====
—- Live Music —-
Dirty Slippers (indie rock, Sárvár – Hungary) | The Attic, Totton <18:00>
www.facebook.com/events/120052717847611
Musical Monday with Nick Haynes | October Books <12:30>
www.facebook.com/events/852816152520965
—- Events —-
Monday Quiz | Humble Plumb <20:00>
www.facebook.com/events/2586830018131040/?event_time_id=2586830048131037
Quiz Night | Trago Lounge <20:00>
www.facebook.com/events/1827825970910316/?event_time_id=1827826024243644
Cuban Salsa + Bachata + SBK Party – With Dalia, Razvan & Xaris | Revolucion de Cuba Southampton <19:30>
www.facebook.com/events/1332942680884016/?event_time_id=1361097478068536
Community Club | St. James' Park <11:00>
www.facebook.com/events/725759072432920/?event_time_id=725759179099576
New Day 6-a-Side League | St Marks C Of E School, Shirley <19:00>
www.facebook.com/events/671870458336263