When I started writing this list, I had no idea how long it would become. It could get even longer, but I had to stop myself somewhere.

This page is here to shout about all the amazing locally owned options we already have on our doorstep, and it turns out for coffee shops there are many. They may not have the marketing budget of the larger chains, but they put a lot of heart into their offerings, and we will shout about them instead. When you spend money at Southampton-owned venues, the money stays in Southampton and may well be further spent at other local businesses.
I'm only listing coffee shops that I have verified are open are open in the current Tier 2 restrictions, but please double-check opening times before you make a journey.
Mettricks mettricks.com
1 Guildhall Square / 8 Centenary Plaza, Woolston
Every self-respecting list of coffee shops in Southampton really has to start with Mettricks. Living up to its name as Southampton's living room, both the Guildhall Square (recently refurbished) and Woolston locations offer cosy sofas, great local and guest coffee, and a warming food menu. Both sites are a great location to take visitors – Woolston overlooking the Itchen and over to Ocean Village, and Guildhall being right in the heart of the city between the Central Parks and the Civic Centre.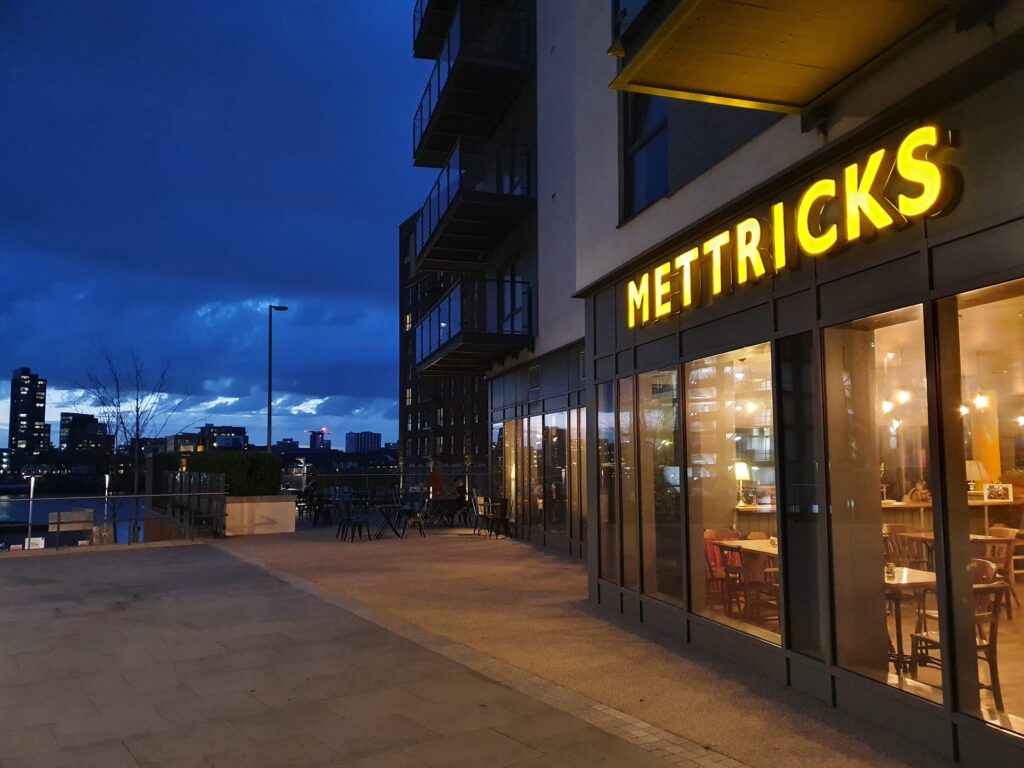 Docks Coffee dockscoffee.com
44 Oxford Street
Docks Coffee on gorgeous Oxford Street is home to some of the city's best brunches and brownies. The staff are lovely, and they also do a great brunch, as well as a gift shop and afternoon tea platters for delivery.
The Nest Coffee Shop thenestcoffeehouse.co.uk
129 High St, Old Town (inside Robins' Nest) / London Road
You can find The Nest Coffee Shop inside one of Old Town's best kept secrets opposite Holyrood church – Robins' Nest Emporium (a treasure trove of antiques, gifts, clothes, art and furniture in spaces rented out to local sellers). Known for their homemade soups, unique doughnut flavours, coffees and milkshakes (with vegan options), they have also recently opened a second venue on London Road.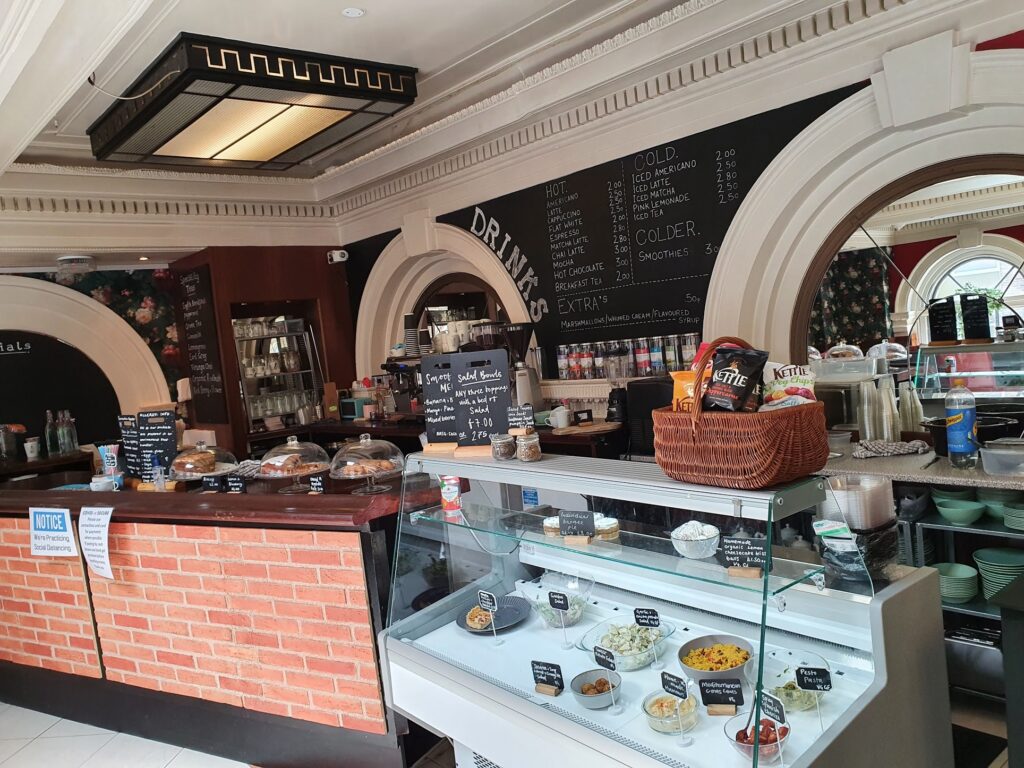 Muse Coffee
14 The Broadway, Portswood
If you're looking for coffee and pastries in Portswood, look no further than the recently opened and comfortably furnished Muse Coffee.
No. 329 Coffee House 329coffeehouse.co.uk
329 Shirley Road
Here's an admission – I haven't been to No. 329 Coffee House yet. But this will not be the case for much longer, their Facebook page is full of mouth watering photos of winter spiced cappuccinos, chocolate orange cupcakes, and yes – baileys espresso martinis. Conveniently located in the centre of Shirley High Street.
Make & Brew makeandbrew.co.uk
Methodist Church, St James Road, Shirley
Recently Make & Brew have moved further up one of my favourite mini-High Streets in the city, St James Road (towards St James Park), Make & Brew's new location in the foyer of the Methodist Church offers a welcoming, open space. The staff are friendly and the coffee game is strong. I also really enjoyed the rhubarb crumble slice they had on offer when I visited.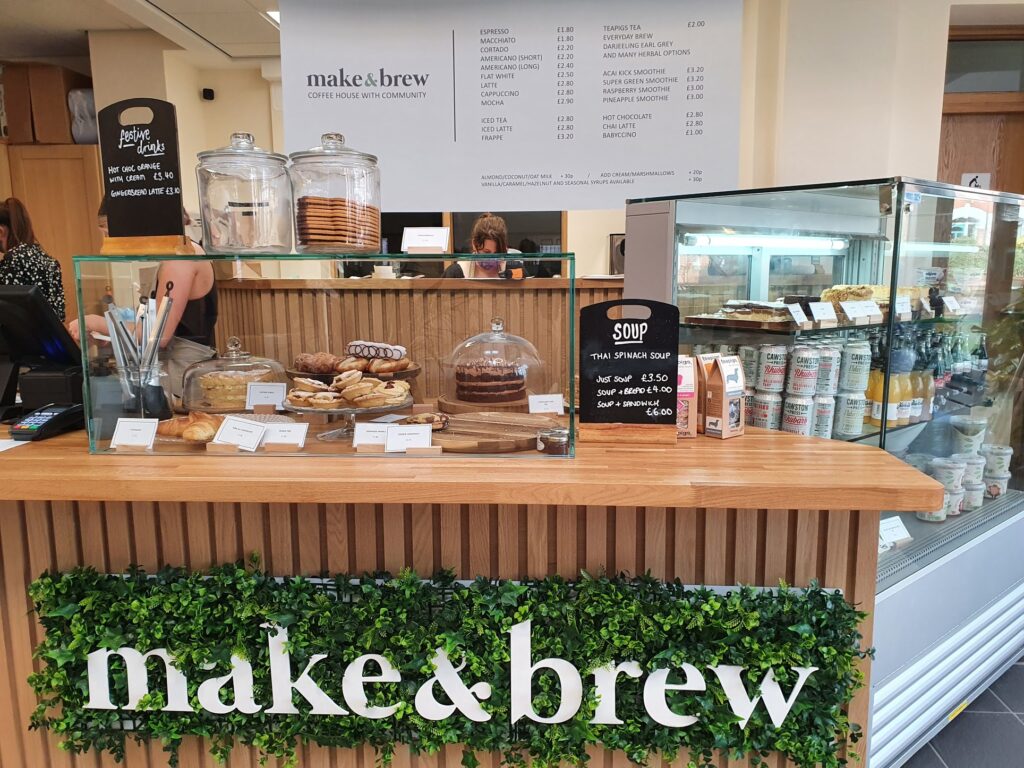 Songbird Cafe songbirdcafe.uk
23 Manor Farm Road, Bitterne Park
If you haven't visited Riverside Park, the cafés and shops of the nearby Bitterne Park Triangle should be enough to tempt you. Songbird Café was originally known for its ice cream, but is also home to winter spiced late, chocolate orange hot chocolate, and in more normal times to craft workshops.
Il Picchio
33 Manor Farm Road, Bitterne Park
Another excellent café on Bitterne Park Triangle, Il Picchio serves up authentic Italian cuisine alongside home made cakes, and of course authentic Italian coffee. You'll feel like part of the family in this café – due to its limited space it's worth calling ahead.
Café Thrive cafethrive.co.uk
18 Hanover Buildings
If you're vegan, you already know about Café Thrive. If you're not and haven't heard of it, I wholeheartedly recommend a visit for some a hearty and healthy (but often still naughty) take on 'junk food' whilst sipping their gorgeous hot drinks. Café Thrive is located at the end of Houndwell Park, just a couple of minutes walk from the Bargate (it's also right next to Rice Up Supermarket – which is well worth popping into whilst you're in the area). Their pumpkin spiced latte blew me away that it didn't have any dairy in, and their blondies are divine.
Retro Café
34 Bedford Place
Family run and recently given a new look, Retro is an intimate and gorgeously furnished café. If you bring a winter-proof coat why not enjoy your coffee al fresco with friends, taking advantage of Bedford Place's new pedestrianisation.
Parklife Community Café, St James' Park
St James Park, Shirley
Parklife will re-open on Saturday December 12 for Christmas. Offering excellent value for money and getting involved in countless community programmes and events, the café is located right on the corner of the gorgeous St James' Park.
The Art House thearthousesouthampton.org
178 Above Bar Street
The Art House is not currently open in its usual guise, but they are selling freshly prepared meals and have hot drinks available for takeaway on Wednesday, Thursday, Saturday and Sunday. In more normal times this is a great place to relax over a book, soak in some art, and enjoy a hot drink.
Romano Caffe Pizzeria romanodeli.com
4 Canute Road, nr Ocean Village
Is there anything this place isn't? They offer a gorgeous delicatessen, amazing pizza, and yes – great Italian coffee. Their chocolate and hazelnut filled cannoli are the perfect match to a coffee. The only 'problem' is the smell coming from behind the counter makes it's hard not to get tempted into ordering a pizza too…
Mad Cafe and Deli
208 Shirley Road
I challenge anyone to visit Portugal and not come back with a taste for Pastéis de Nata (Portuguese custard tarts). Alongside Diego's in Bedford Place, this is my go-to for a Pastéis de Nata hit. They also have freshly cooked food, a Portuguese deli for you to take your favourite products home, loaves of bread, cakes, Portuguese beer, and of course banging Portuguese coffee. The 'Mad' in 'Mad Cafe' stands for Madeira, and this place truly feels the closest you can get to Portugal without leaving the city.
Halladay's Tearooms
6 Bedford Place
On paper this is a tea room, but walk inside and you'll also find a world of toffee nut lattes, peppermint mochas, freshly baked carrot cake, brunch and cream tea options. Halladay's has updated its offering whilst keeping the traditional tea room experience that its customers come back for. Located in Southampton's boutique Bedford Place district.