Way over a hundred events for you in this week's Shop Local Southampton listings, in a week sandwiched between two bank holidays!
Vilnio continue their reputation of pulling in huge acts with Ellie Goulding at Engine Rooms, though this is unsurprisingly sold out. Black Sabbitch is a top tier Black Sabbath tribute, promoted by the likes of Dave Grohl and Ozzy himself. Other events for the week include Dead Kennedys, Circus Berlin, Lost Post, Daddy Witch, Shannon B, aAnd?, Ciel, cellist Jo Quail and so much more including comedy, dance nights, and the return of free park yoga.
There are also lots of events for the Coronation of course.
Don't forget to vote on Thursday!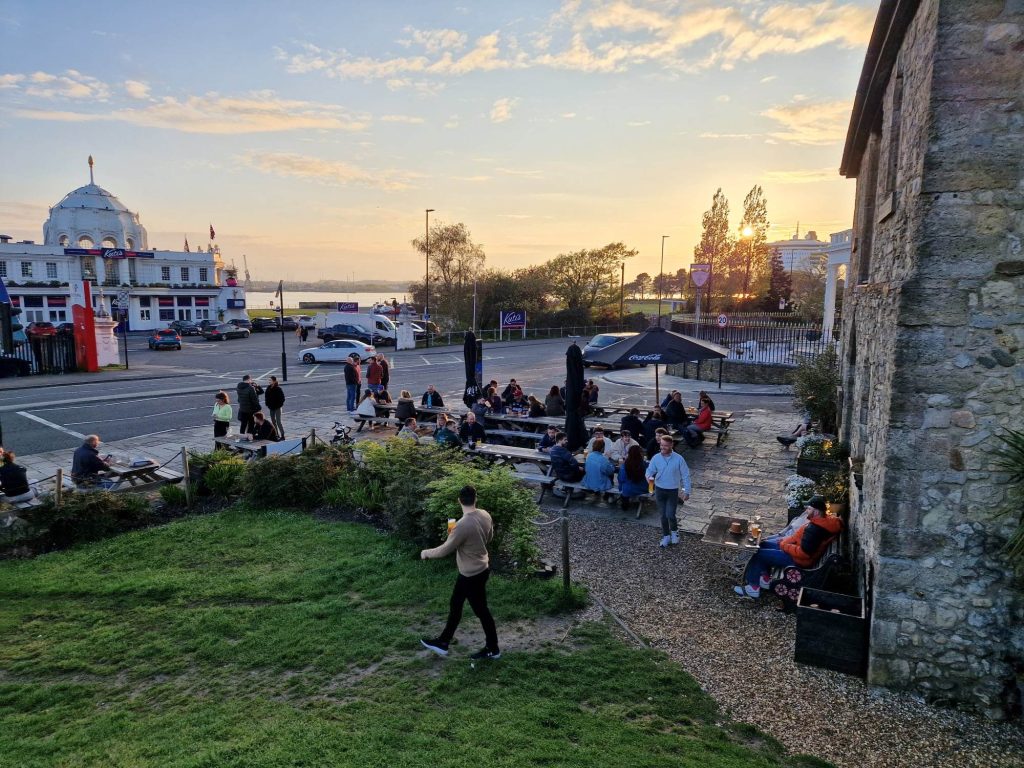 ==== TUESDAY 02 MAY ====
—- Live Music —-
<sold out> Black Country, New Road | The 1865 <19:30>
www.facebook.com/events/701408371701073
Blues Jam | Cricketers Bedford Place <20:00>
www.facebook.com/events/616696193674553
—- Shows —-
Sister Act | Mayflower Theatre <19:30>
www.facebook.com/events/229148851452817/?event_time_id=884963429204686
==== WEDNESDAY 03 MAY ====
—- Live Music —-
Scustin (post funk) | Heartbreakers <19:30>
Support: Canned Pineapple & Austen Showers
www.facebook.com/events/691416746086960
Band Electronica: Voice & Visions | Engine Rooms <19:00>
www.facebook.com/events/774356763476280
Steely Scam (Steely Dan tribute – rock) | The 1865 <19:00>
www.facebook.com/events/521234246857975
—- DJs and Club Nights —-
Karaoke Nights | The Yacht, Woolston <20:00>
www.facebook.com/events/977896543251034
—- Shows —-
Sister Act | Mayflower Theatre <14:00 & 19:30>
www.facebook.com/events/229148851452817/?event_time_id=884963439204685
—- Events —-
Ghost Tour | St Michael's Square <20:30>
www.facebook.com/events/439494558097203
Belgium & Blues Pub Quiz | Belgium & Blues <19:00>
www.facebook.com/events/3380080418931770/?event_time_id=3380080482265097
Creative Crafts | Round About Café <18:30>
www.facebook.com/events/1668008356961197/?event_time_id=1668008386961194
Spring Sessions: Observations with Nature | Sholing Valleys Study Centre <18:00>
www.facebook.com/events/1532524663906630
Saints Legends – An Evening with James Beattie & Jason Dodd | Ottoman Kitchen <18:00>
www.facebook.com/events/225376436611431
Community Pantry & Cafe Weds, Thurs & Sat | The Art House <11:00>
www.facebook.com/events/1926492974379307
Solent Parenting Social Meet-up, Walk 'n' Talk | Royal Victoria Country Park <09:45>
www.facebook.com/events/201681609286110
==== THURSDAY 04 MAY – Election Day! Remember to Vote ====
—- Live Music —-
Melin Melyn (psychedelic country pop, Cardiff) | Heartbreakers <21:00>
www.facebook.com/events/1705573926506878
Blues with Glen Wright | Belgium and Blues <20:30>
www.facebook.com/events/922796195573397
Whiskey Blue Jam Sessions | Whiskey Blue <20:00>
www.facebook.com/events/484482833768197/?event_time_id=484485777101236
Open Mic St. Denys | The Dolphin, St Denys <19:00>
www.facebook.com/events/899246024646153/?event_time_id=899246084646147
Whiskey Blue Jam | Whiskey Blue <20:00>
www.facebook.com/events/778917130082237
Veg Out Evening Cafe with Flamenco Guitarist Jose Ramon Horcas | October Books <19:00>
www.facebook.com/events/964331954932119
—- Shows —-
Sister Act | Mayflower Theatre <14:00 & 19:30>
www.facebook.com/events/229148851452817/?event_time_id=884963422538020
The Travelling Talesman: Off with Their Heads | The Art House <19:30>
www.facebook.com/events/770745691246881
Broken Icon | MAST (Mayflower Studios) <15:00>
www.facebook.com/events/9180952828646344
—- Events —-
Circus Berlin | Mayflower Park <17:00>
www.facebook.com/events/501069078860440/?event_time_id=501069088860439
Baron Brewing Tap Takeover | Belgium and Blues <16:00>
www.facebook.com/events/6055776517838014
Qigong Classes | St James Chiropractic Clinic <12:00>
www.facebook.com/events/532571452159203/?event_time_id=532571498825865
Hampshire vs Warwickshire | The Rose Bowl <09:30>
www.facebook.com/events/928573618154761
Star Wars Weekend | The Angelic Kitchen, The Marlands <10:00>
www.facebook.com/events/741203607700484
==== FRIDAY 05 MAY ====
—- Live Music —-
<sold out> Ellie Goulding – Higher Than Heaven | Engine Rooms <19:00>
www.facebook.com/events/643592894440811
Dead Kennedys (punk, San Francisco – USA) | The 1865 <20:30>
www.facebook.com/events/1104772070368181
Shannon B & Band (RnB & garage, Southampton) | Whiskey Blue <20:00>
www.facebook.com/events/1411689236339118
Deeper Purple (tribute) | The Brook <20:00>
www.facebook.com/events/625370502368801
The Wave Pictures (rock, Leicestershire) | The Joiners <19:30>
www.facebook.com/events/598785305609890
Shadowing Hank (Hank Marvin and the Shadows Tribute) | Hanger Farm Arts Centre, Totton <19:30>
www.facebook.com/events/345631807574942
Lost Post (folk-country, Southampton) W/ Jack & Bas (jazz) | The Art House <19:30>
www.facebook.com/events/163731936523623
aAnd? (metal, London) | Suburbia <18:00>
www.facebook.com/events/5909651635814323
Paraffin (rock, Portsmouth) | HMV <18:00>
www.facebook.com/events/625832715653337
Motown & Soul | Griffin Bar & Grill <17:00>
www.facebook.com/events/514760924201020
—- DJs and Club Nights —-
Bollywood Night with DJ Varun | Revolucion de Cuba Southampton <20:00>
www.facebook.com/events/608402254495438
—- Shows —-
Comedy on the Green – Fin Taylor + Support | Sarisbury Green Community Centre <20:00>
www.facebook.com/events/3386178334937420
Sister Act | Mayflower Theatre <19:30>
www.facebook.com/events/229148851452817/?event_time_id=884963432538019
Shadowing Hank at Hanger Farm | Hanger Farm Arts Centre, Totton <19:30>
www.facebook.com/events/473533201654135
Tiff Stevenson (comedy) – Sexy Brain | The Attic, Totton <19:00>
www.facebook.com/events/999041294390824
—- Events —-
Biodanza | Edmund Kell Unitarian Church <19:00>
www.facebook.com/events/718010669789260
Circus Berlin | Mayflower Park <17:00>
www.facebook.com/events/501069078860440/?event_time_id=501069085527106
==== SATURDAY 06 MAY – Coronation Day ====
—- Live Music —-
Daddy Witch (rhythm & blues, Southampton) | Belgium and Blues <21:30>
– Support: Palookaville
www.facebook.com/events/777436543898234
Subdued (Rock, Southampton) | The Firehouse <21:30>
www.facebook.com/events/659033682650524
Black Sabbitch (all female Sabbath tribute, Los Angeles – USA) | The Brook <20:30>
www.facebook.com/events/860775418530879
Wood & Steel (acoustic blues) at Smokehouse Blues (soton) | Blues Smokehouse BBQ Southampton <20:30>
www.facebook.com/events/759972385585028
The Leylines (folk rock, Weston-super-Mare) + Becoming Branches | The Joiners <19:30>
www.facebook.com/events/917893809192314
The Magic Es (indie, Norwich) | The Hobbit <19:00>
www.facebook.com/events/497899332208534
Dissonants (alt rock, Southampton) | Suburbia <18:00>
www.facebook.com/events/732852645095189
The Fleetwood Mac Songbook (tribute) | Hanger Farm Arts Centre, Totton <19:30>
www.facebook.com/events/577351380165979
—- Live Music (Covers) —-
The Hedgehogs (rock, Southampton) @ Coronation Picnic | St Denys <12:00>
www.facebook.com/events/1432540664164600
Black Smoke Rebellion | Regents Park <21:00>
www.facebook.com/events/175831995334732
The "urberts" | The Bittern <16:00>
www.facebook.com/events/202216315906626
RedBandit Band | Dolphin St. Denys <21:00>
www.facebook.com/events/3357364094594197
Destination 80s | Station Pub Bitterne Park <21:00>
www.facebook.com/events/1297245857875295
—- DJs and Club Nights —-
Myf X Slap Presents: Mason Collective, Fleur Shore, Max Dean | Engine Rooms <22:30>
www.facebook.com/events/708857954351505
Techno Rave – Forge | Suburbia <22:00>
www.facebook.com/events/1431279597700572
Fontaines Dc DJ Set | Heartbreakers <22:00>
www.facebook.com/events/1199328877438466
Shockwave: Rock & Metal Night | The Shooting Star <21:00>
www.facebook.com/events/226070123445204
DJ Stevo – Motown Night | The Quarter Lounge <20:00>
www.facebook.com/events/616844103401072
Bingo Lingo | Engine Rooms <18:00>
www.facebook.com/events/128180660181425
Paradox Reunion 2023 – All Star Collective Crew | Sobar <22:30>
www.facebook.com/events/1032148814432148
—- Shows —-
Broken Icon | MAST (Mayflower Studios) <20:00>
www.facebook.com/events/914437132974294
Alfie Moore (comedy): Fair Cop Unleashed | The Attic, Totton <19:30>
www.facebook.com/events/907875646928739
Sister Act | Mayflower Theatre <14:00 & 19:30>
www.facebook.com/events/229148851452817/?event_time_id=884963445871351
Thin Walls | MAST (Mayflower Studios) <16:00>
www.facebook.com/events/761923568711037
—- Events —-
Bottomless Brunch Party – King Charles' Coronation Special | Mango Thai Tapas – Ocean Village <14:00>
www.facebook.com/events/586251886324974
Circus Berlin | Mayflower Park <14:00>
www.facebook.com/events/501069078860440/?event_time_id=501069105527104
Best of British Coronation Bbq | Harbour Hotel Christchurch <13:00>
www.facebook.com/events/3229438630701119
Community Picnic | Janaway Gardens <11:00>
www.facebook.com/events/495597535936148
Shedfield Coronation Spring Show | Shedfield Riding-School <09:00>
www.facebook.com/events/1829464514089277
Trans Fem Social – May | The Art House <14:00>
www.facebook.com/events/793256591836238
==== SUNDAY 07 MAY ====
—- Live Music —-
The Beatles Return (tribute) | Heartbreakers <19:30>
www.facebook.com/events/589177442986142
Cloak&Dagger (tribute to Rory Gallagher) | The Yacht, Woolston <12:00>
www.facebook.com/events/758800062310096
Mango Jam | Mango Thai Tapas – Ocean Village <18:00>
www.facebook.com/events/725360412605476
—- Live Music (Covers) —-
New Age (modern rock) | Dolphin St. Denys <16:00>
www.facebook.com/events/533621218888510
Broken Bones Duo (rock) | The Bittern Pub <16:00>
www.facebook.com/events/226212150105151
—- Shows —-
The Music of Lord of the Rings, Game of Thrones and Beyond | Mayflower Theatre <17:00>
www.facebook.com/events/3270238829963136
—- Events —-
Wild Arts at Millers Pond | Sholing Valleys Study Centre <18:00>
www.facebook.com/events/1251912238743968
Monty's Coronation Street Party | Monty's Community Hub <14:00>
www.facebook.com/events/757901949197048
Circus Berlin | Mayflower Park <14:00>
www.facebook.com/events/501069078860440/?event_time_id=501069112193770
Steamcosies & Chums Drop-in | The Titanic <13:30>
www.facebook.com/events/191958610370780
Coronation Community Picnic | Freemantle Lake Park <13:00>
www.facebook.com/events/3487898671498154
Ashtanga Workshop | Portswood Residents' Gardens Pavilion <10:00>
www.facebook.com/events/723181179216291
Free Yoga | Southampton Common <09:30>
www.facebook.com/events/3531252733820066/?event_time_id=3531252777153395
Coronation Day with Jackie Probert | The Fleming Arms <15:00>
www.facebook.com/events/513955370931032
The Best of British Party | Revolucion de Cuba Southampton <14:00>
www.facebook.com/events/263024089400310
Sunday Acoustic Roast | Figurati Southampton <13:00>
www.facebook.com/events/886445689128108
Rebound All Stars 2023 | Solent Sport <11:00>
www.facebook.com/events/228138346265336
==== MONDAY 08 MAY ====
—- Live Music —-
Ciel (garage rock, Brighton) | Heartbreakers <20:00>
www.facebook.com/events/6413876791989999
Dead Man's Whiskey (rock, London) – Acoustic Set | The Hobbit <19:00>
www.facebook.com/events/1930495173982201
Jo Quail (cellist & composer, London) | Suburbia <18:00>
www.facebook.com/events/1264381887557696
—- Shows —-
Pedlars and Petticoats Present "Ministering Angels" | Royal Victoria Chapel <11:30>
www.facebook.com/events/1391280258324260
—- Events —-
Quiz Night | Trago Lounge <20:00>
www.facebook.com/events/1827825970910316/?event_time_id=1827826060910307
Recreational Football | Southampton Outdoor Sports Centre <20:00>
www.facebook.com/events/1126853294847037/?event_time_id=1126859481513085
Salsa + Bachata + sbk Party – With Juan Soto, DJ Junior and William Hernandez | Revolucion de Cuba Southampton <19:30>
www.facebook.com/events/1332942680884016/?event_time_id=1361097498068534
Ballroom Waltz Beginners Taster Bronze & Silver/gold Waltz Classes | Tracie's Latin Club <19:00>
www.facebook.com/events/965951444435262
Tea Dance – Dementia Action Group | Royal Victoria Chapel <15:30>
www.facebook.com/events/244857941381025
Mini Dog Show at the Royal Celebration Gala | Royal Victoria Country Park <13:30>
www.facebook.com/events/911946746741147
King's Coronation Picnic in the Park | Hatch Grange <13:00>
www.facebook.com/events/601692828533829
The Big Help Out Big Clean | Sea Cadets Southampton <13:00>
www.facebook.com/events/119841247729029
Circus Berlin | Mayflower Park <12:00>
www.facebook.com/events/501069078860440/?event_time_id=501069108860437
Yoga / Pilates Taster Sessions at Royal Celebration Gala | Royal Victoria Country Park <11:30>
www.facebook.com/events/989226598726973
Laser Tag Sessions at Royal Celebration Gala | Royal Victoria Country Park <11:00>
www.facebook.com/events/1677212882717132
Community Club | St. James' Park <11:00>
www.facebook.com/events/725759072432920/?event_time_id=725759122432915
Spring Clean and Picnic at the Park | St. James' Park <10:30>
www.facebook.com/events/1523571414844423
Coronation Bash at Ceno | Ceno Restaurant <13:00>
www.facebook.com/events/2375772862597169
Royal Celebration Gala | Royal Victoria Country Park <11:00>
www.facebook.com/events/177069575156350
A Party Fit for a King (kids 10-12) | Jumpin' Jax <10:00>
www.facebook.com/events/1609272356226775